Women's Tour of Britain: Joss Lowden eindigt als tweede in tijdrit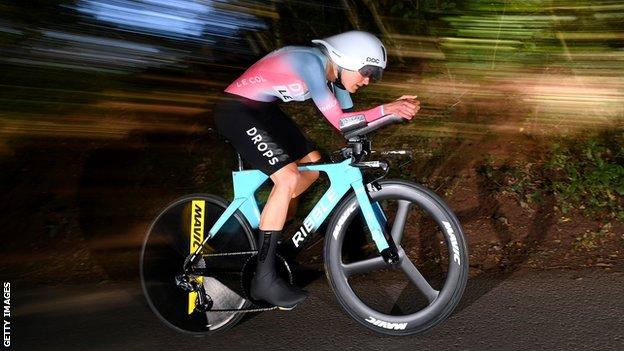 De Brit Joss Lowden eindigde als tweede in de allereerste Women's Tour of Britain-tijdrit ooit, aangezien de overwinning van Demi Vollering haar de voorsprong opleverde in Atherstone.
Vollering legde het parcours van 16,6 km af in 23 minuten en 18 seconden, met tijdritspecialist Lowden één minuut en vier seconden langzamer.
Lowden arriveerde vers van bij de Women's Tour het uurrecord breken.
De 34-jarige staat zesde in het algemeen klassement en wordt in de top 10 vergezeld door landgenoten Alice Barnes en Pfeiffer Georgi.
Barnes staat achtste in het algemeen klassement na als vierde te zijn geëindigd in de tijdrit, achter de Canadese Leah Kirchmann, terwijl Georgi tiende is.
Barnes' zus Hannah was een van de drie andere Britten in de top 10 van de tijdrit toen ze 10e werd, met Anna Shackley als negende en Abi Smith als zevende.
Vollering van SD Worx heeft een voorsprong van één minuut en negen seconden in het algemeen, met Juliette Labous tweede en overnacht leider Clara Copponi derde en één minuut en negentien seconden achter.
Drops – Le Col-renner Lowden heeft een minuut en 47 seconden achterstand, terwijl titelverdediger Lizzie Deignan – die won zaterdag Parijs-Roubaix – is vier minuten en 55 seconden achter op de leider in de race.
Copponi behoudt de puntentrui, Elise Chabbey behoudt de koningin van de bergentrui en Nina Kessler leidt de sprintcompetitie.
De vierde etappe beslaat 117,8 km van Shoeburyness naar Southend-on-Sea.
Resultaten tijdrit
1. Demi Vollering (Ned/SD Worx) 23 min 18 sec
2. Joss Lowden (GB/Drops-Le Col) +1 min 4 sec
3. Leah Kirchmann (Can/Team DSM) +1 min 5 sec
4. Alice Barnes (GB/Canyon SRAM Racing) +1 min 8 sec
5. Juliette Labous (Fra/Tream DSM) Zelfde tijd
6. Chantal van den Broek-Blaak (Ned/SD Worx) +1 min 9 sec
7. Abi Smith (GB/Team TIBCO-SBV) +1 min 20 sec
8. Veronica Ewers (VS/Team TIBCO-SBV) +1 min 21 sec
9. Anna Shackley (GB/SD Worx) +1 min 25 sec
10. Hannah Barnes (GB/Canyon SRAM Racing) +1 min 27 sec
Algemene classificatie
1. Demi Vollering (Ned/SD Worx) 6 uur 46 min 1 sec
2. Juliette Labous (Fra/Tream DSM) +1 min 9 sec
3. Clara Copponi (Fra/FDJ Nouvelle Aquitaine Futuroscope) +1 min 19 sec
4. Amy Pieters (Ned/SD Worx) +1 min 22 sec
5. Aude Biannic (Fra/Movistar Team) +1 min 33 sec
6. Joss Lowden (GB/Drops-Le Col) +1 min 47 sec
7. Leah Kirchmann (Can/Team DSM) +1 min 48 sec
8. Alice Barnes (GB/Canyon SRAM Racing) +1 min 51 sec
9. Chantal van den Broek-Blaak (Ned/SD Worx) +1 min 52 sec
10. Pfeiffer Georgi (GB/Team DSM) +1 min 53 sec
Source link