Refresh
'Yep' is the official line from Jacob. That was fast. So Mads Pedersen will start stage 2 of the Tour de France.
No word yet from Trek on Mads Pedersen. He was involved in the crash yesterday at the end and although he went for x-rays and was cleared the team said last night they would make a call on the Dane. Let's text their press officer Jacob and find out…
The biggest news story that we ran overnight was that ASO might take legal action against the spectator who caused the first crash. If you've been living under a rock for the last 24hrs, here's what happened. With around 45km to go a spectator, who very much looked like my own mother on a ramble in the Cotswolds, stood on the side of the road and decided it would be a great idea to stick a cardboard sign in Tony Martin's face when he was traveling at 60kph, and sitting second-wheel at the front of the peloton. Said spectator has apparently gone AWOL (please call home, mum) but ASO are talking about possible legal action. Here's the story from Laura Weislo.
Nibali, who is here for stages and to prep for the Olympics, also spoke about stage 1. Here's what the 2014 Tour champ had to say:
"The Tour de France is the most nervous and stressful Grand Tour and this unfortunately has always brought many crashes. We have a lot GC riders that want to stay in the front and their teams as well. Unfortunately in recent past a few crashes have happened due to fans being inattentive, as happened today. It definitely wasn't a good day and a good start from this point of view.
"I've been involved too today in the massive crash, luckily with no consequences. We need to keep a lot of attention and the fans must do the same on the road. We need respect. The Peloton can be a fast train running, it can be really dangerous without the proper concentration.
My legs? It was a good start, being in the front, testing myself. It was not my finish but for explosive puncheurs. But being there it's a good feedback."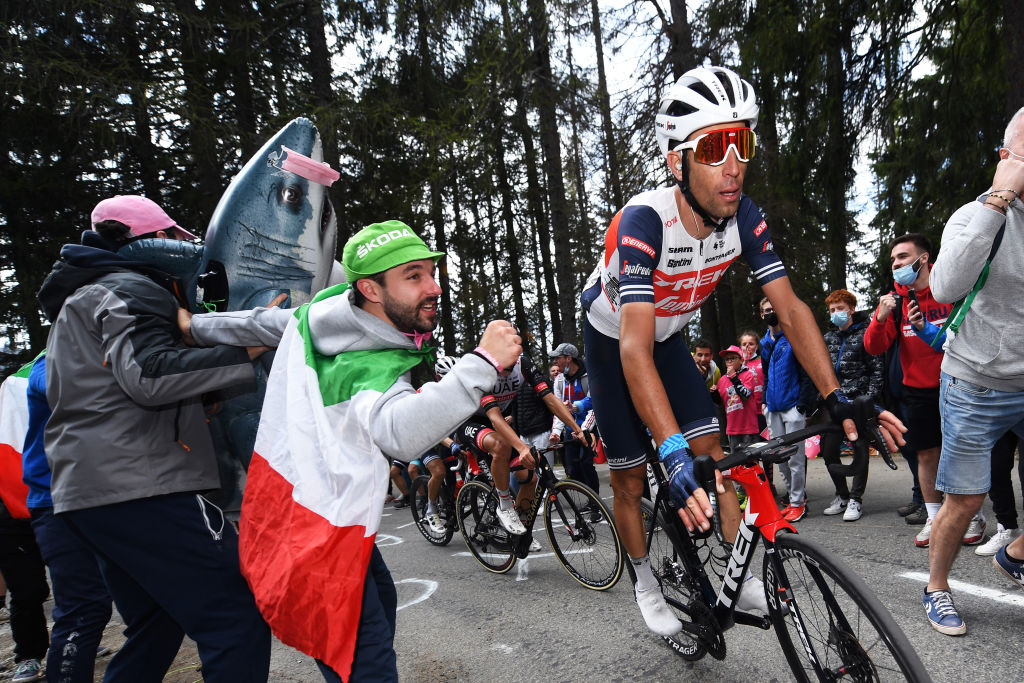 We'll roll out from the start in just over an hour from now but riders are signing on at present. We should start to hear more from other teams in terms of their injury lists. Here's a medical update I was sent last night from the UAE Team.
Medical Bulletin:
Mikkel Bjerg : Multiple contusions, abrasions and small lacerations. Contusion to right knee joint and right elbow joint and muscular contusions over both posterior thighs.
Brandon McNulty: Some small abrasions of the right wrist and elbow but otherwise ok despite high-speed fall.
Rui Costa: Minor contusions of buttocks and abrasion to fight ankle.
All 3 riders above in good spirits & fit to continue.
And here's what they sent out this morning.
Medical Update : 
After his crash yesterday Marc Hirschi had considerable pain in the night with his shoulder. After consultation with the medical staff this morning, he will try to start stage 2 today. 
Spare a thought for Marc Soler. He was forced out of the Giro after a crash when well-placed on GC and he's out of the Tour now too. I've heard he fractured an elbow but have also heard that he broke both arms in the fall. He finished the stage! But he's obviously out of the race. Movistar also saw Miguel Angel Lopez lose a chunk of time too. 
The full extent in terms of the GC picture after the two crashes is neatly summed up here. It's not looking good for Movistar, or Ineos, or ISN.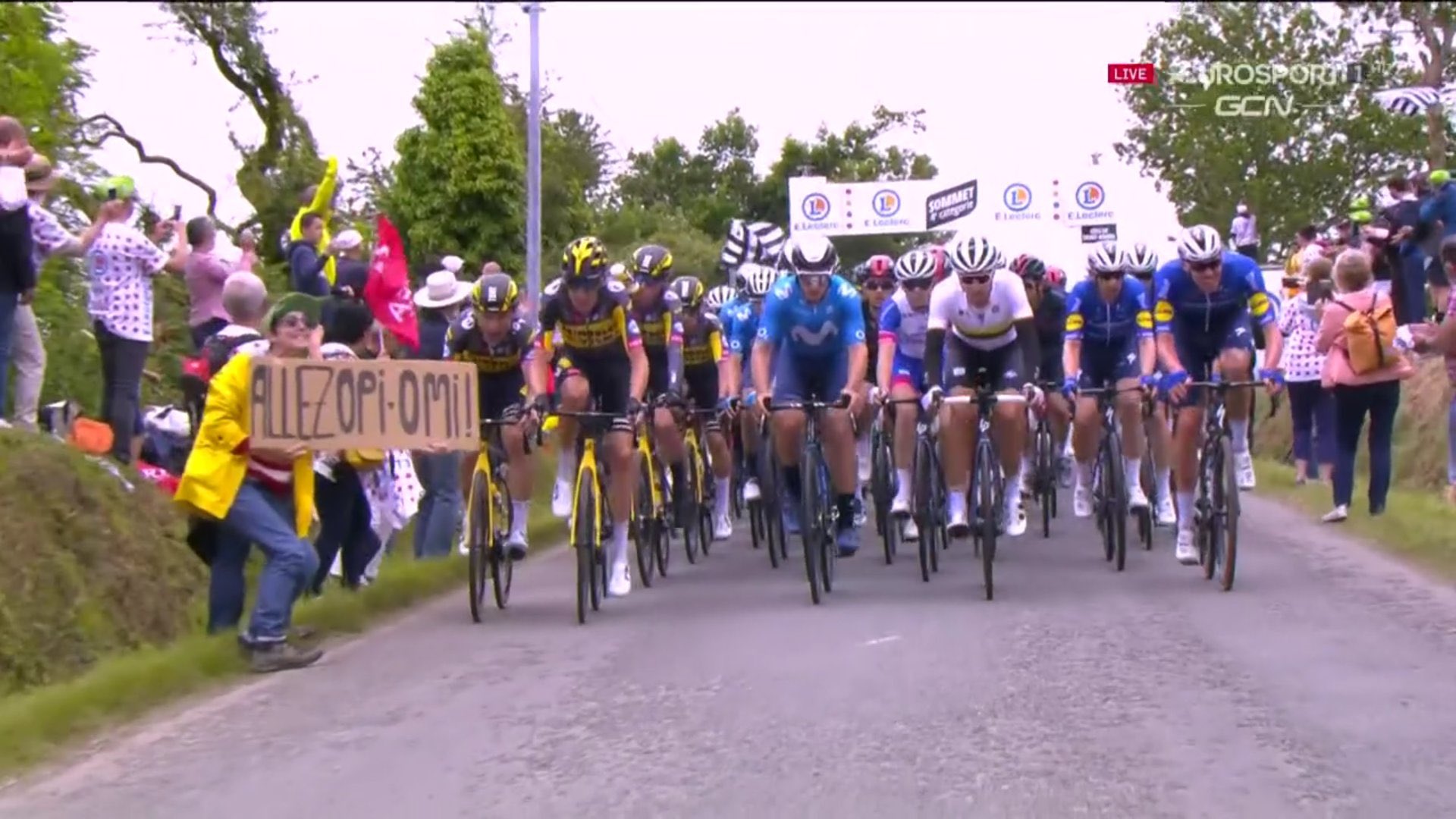 The breaking news from this morning is that Marc Hirschi and Chris Froome will both start the race. Both riders came down yesterday in the crashes and were doubts for this morning. Here's the latest on Froome. To be honest I thought he was a DNF for sure when he was struggling to stand. He apparently landed on other riders, and bikes, rather than the tarmac. 
Obviously, we'll get to Alaphilippe and the yellow jersey but the day was overshadowed by the two major crashes – one with 45km to go, and the second with around 6km to go. Here's a full list of the walking wounded, and those riders who have unfortunately been forced home through injury.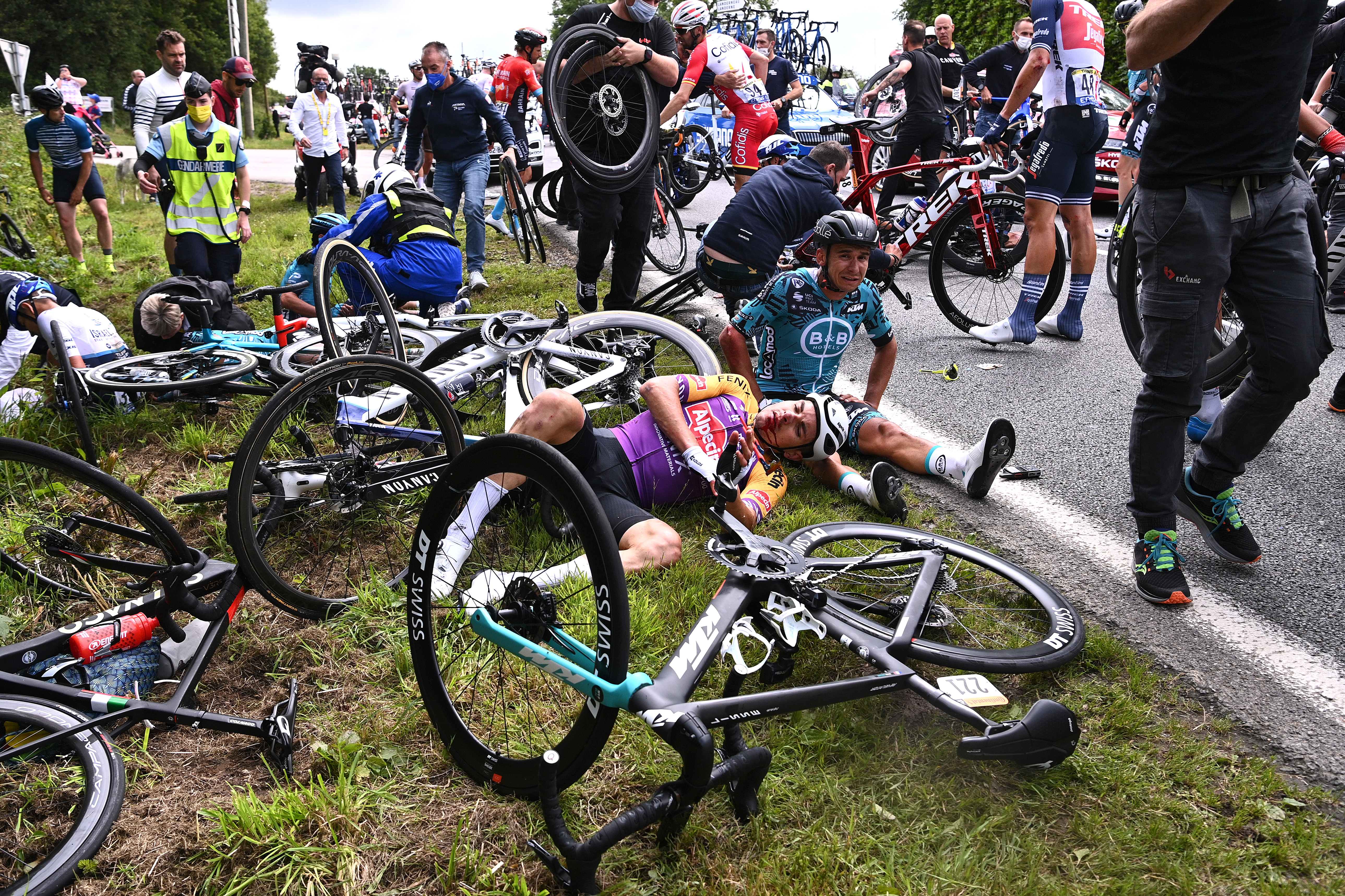 Good morning and welcome to our live coverage from stage 2 of the 2021 Tour de France. Not sure where to really start after what we saw yesterday but let's begin by sharing some video highlights from a breathtaking day at the Tour de France.