These Are The Best 21 E-Bikes You Can Get. In-Depth Reviews

Electric bicycles are no longer taboo in the cycling world. There's a whole host of reasons why you should buy one and get some pedaling assistance in your life. They'll make your life easier and cycling more fun! Let's see, what are the best electric bikes on the market!
E-bikes make your commutes faster and easier, help you climb hills more efficiently before a DH run, and allow you to ride longer on your road bike.
You also might be recovering from an injury or you need to haul a big load of cargo that your legs are not strong enough to pull.
Whatever the reason, there's A LOT of choice in the e-bike world right now. The chances you'll find exactly what you're looking for are high, but making the right choice might take some time.
Check out our recommendations for the best electric bikes in SEVEN categories E-HYBRID | E-MTB | E-ROAD | E-CITY | E-CARGO | E-FOLDING | E-WOMEN
Let's get electrified!
Classes of E-bikes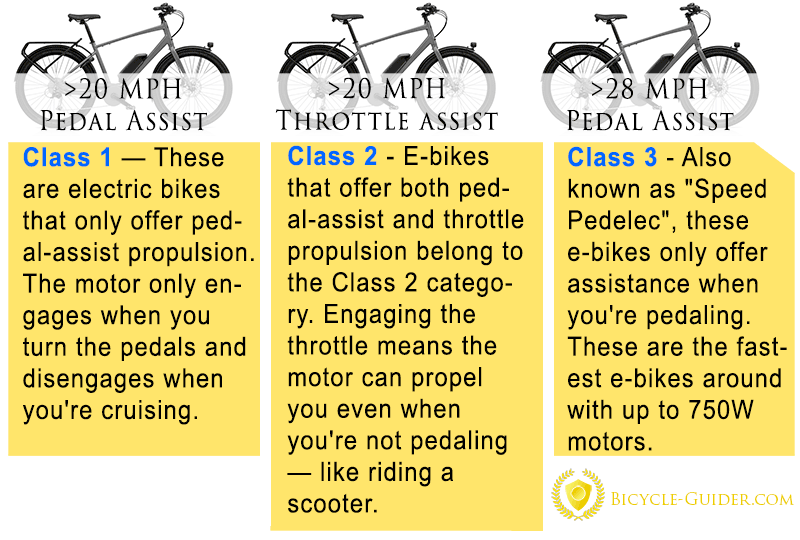 Not all electric bicycles are made the same. Depending on the type of assistance (pedal-assist or throttle) they offer and the maximum speed they can develop, e-bikes are separated into three classes:
Class 1 — These are electric bikes that only offer pedal-assist propulsion and can go up to 20 mph. The motor only engages when you turn the pedals and disengages when you're cruising.
Class 2 — E-bikes that offer both pedal-assist and throttle propulsion belong to the Class 2 category. Engaging the throttle means the motor can propel you even when you're not pedaling — like riding a scooter. Their top speed is also capped at 20 mph.
Class 3 — Also known as "Speed Pedelec", these e-bikes only offer assistance when you're pedaling, but develop speeds of up to 28 mph. These are the fastest e-bikes around with up to 750W motors.
Class 1 and Class 3 e-bikes are allowed in most countries around the world without the need for a license. Some countries require a license for Class 2 e-bikes and the speed of throttle assistance comes with a 20 mph limit.
How did we choose?
We analyzed the market and chose the top electric bikes from different merchants. Then we compared the price to the value and picked the three best in each of the SEVEN categories.
You can see that the most expensive bike isn't our number one choice all the time; however, it is still one of the winners because it found a place on our list.
The reason is that we compared "how much bike you get for the money." Of course, in most cases, a higher price will get you better electrical components, but that difference doesn't make one bike much better than the other.
Higher-end bikes have better components, but the balance between what you get and what you pay might be better with cheaper ones.
More information follows below with our suggested models!
Jump to E-HYBRID | E-MTB | E-ROAD | E-CITY | E-CARGO | E-FOLDING | E-WOMEN
---
Best Electric Hybrid Bikes
---
Cannondale Treadwell NEO Remixte Step-Through
Our Top Choice: Best Electric Hybrid
MSRP $2,300
Class: Class 1
Speed & Battery: 20mph & 250Wh
Features: 250W motor, 250Wh battery, 20 mph top speed, 40-70 miles range, aluminum frame, hydraulic discs, 9-gear drivetrain
Cannondale Treadwell NEO Remixte is our very top choice for the best hybrid electric bike out there. It offers unprecedented value for money that's reflected in the electric parts, mechanical components, and looks.
This is a Class 1 e-bike which means it will assist you up to 20 mph only when you're pedaling. It has a MAHLE rear-hub motor that develops 250W of power and 40 Nm of torque, which is enough for everyday commutes and moderate hills.
Cannondale Treadwell Neo is a versatile electric machine that doesn't cost much and is perfect for daily commuting or assisted fitness riding.
The 250Wh battery is placed in the down tube, so the weight is balanced out nicely. It takes just 3 hours to fully charge, which will give you up to 70 miles of assistance.
Cannondale Treadwell NEO is made with an aluminum frame and has no suspension, so it weighs just 33 lbs. The drivetrain offers 9 wide-range gears to help you pedal more efficiently.
The Maxxis DTR-1, 650b x 47mm tires should also be praised as they give you more than enough traction and allow you to traverse paved and unpaved roads.
If you want a super-affordable and super-light hybrid bike that's best in its class, go for Cannondale Treadwell NEO!
Ghost Hybride Square Trekking 5.8 & Women's
Runner up! Superb hybrid versions for men & women
MSRP $3,700
Class: Class 1
Speed & Battery: 20mph & 500Wh
Features: Bosch motor and battery, super-fast charging, 63-mile top range, front suspension, hydraulic disc brakes, 11-gear drivetrain
Ghost Hybride Square Trekking 5.8 is a remarkable electric bike that will surprise you with its price and impress you with the components.
When it comes to the electric parts, this Ghost e-bike touts powerful Bosch motor and battery. This Class 1 mid-drive motor has 75 Nm of torque and the battery offers 500 Wh. That translates to a 20-63-mile range. Plus, if you are a heavy rider, this motor is perfect for you.
Ghost Hybride Square is available with a step-over and a step-through frame, so it fits men and women equally well. Its Bosch setup gives you 3 assist modes and comes with a display that lets you track your ride statistics.
When you're not in need of assistance, you can pedal smoothly on your own thanks to a Shimano Deore XT 1×11 drivetrain.
Apart from speed, this bike also boasts comfort. The SR Suntour NCX air fork offers 63 mm of travel and the
Continental Contact Plus tires are 42 mm wide.
If you use this bike for commuting, you'll get a lot of value out of the rear rack and integrated front and rear lights. Fenders and a kickstand are included as well.
All you need to do once Ghost Hybride Square Trekking 5.8 arrives is to choose a route!
A full overview of Ghost bikes
Trek Verve+ 2 & Lowstep (For Women)
Third place! Great hybrids for men and women
MSRP $2,500
Class: Class 1
Speed & Battery:  20mph & 400Wh
Features: Lightweight aluminum frame, Bosch electronics, men's and women's geometry, puncture-resistant tires, hydraulic brakes, multiple accessories
Trek Verve+ 2 is a cheap electric bicycle compared to the quality of parts it delivers. All of its electric components have Bosch written on them, which is an assurance of reliability and durability.
The Bosch Active Line motor sustains speeds of up to 20 mph, and the 400Wh battery can get you pretty far away from your home.
Trek Verve+ 2's motor is controlled via the Bosch Purion Display that shows you ride statistics and lets you choose functions. It even features a Walk Assist function to help you push the bike uphill.
But that's not all the tech you get. Trek Verve+ 2 comes with a suspension seatpost, front and rear lights, rack and fenders, a kickstand
The Alpha Gold Aluminum frame is available with step-over and lowstep geometry, which makes getting on and off super-easy.
If you want to pedal on your own and get a good workout, you can do so with a 9-speed Shimano Alivio drivetrain. The motor is placed around the bottom bracket, so the center of balance is low and steering is good.
Make sure to buy Trek Verve+ 2 if you don't want to break the bank but still want to get the best electric components.
---
Best Electric Mountain Bikes
---
Our Top Pick: Best E-Mountain Bike
MSRP $4,999
Class: Class 1
Speed & Battery: 20mph & 500Wh
Features: Powerful Bosch motor, 500Wh battery, Shimano SLX/XT drivetrain, front and rear suspension, dropper post
If you want the best of the best in terms of mountain biking and electric assistance, you need the Orbea Wild FS H30 e-bike.
This bike is truly wild when you take it out on the trails thanks to massive 2.6″ Maxxis Minion DHF tires and front and rear suspension. The RockShox 35 Gold RL fork has 160 mm of travel, and so does the Fox Float DPS rear shock.
As this is an FS beast made for descending, the powerful 500W Bosch Performance CX Cruiser motor will help you get to the top of the hill more easily. The Powertube 500Wh battery will definitely allow you to get a few more runs before the end of the day.
Orbea Wild FS H30 has a steep price that is fully justified the moment it starts flying up the steepest of hills.
These Bosch electronics are paired up with a Performance Purion display that keeps track of your statistics and is fully compatible with Bluetooth and ANT+ devices.
The Shimano SLX/XT 12-speed drivetrain is also creme de la creme. It's perfect for pedaling on rough terrain even when your battery runs out of juice.
Orbea Wild FS H30 also comes with a OC2 dropper post that quickly gets the saddle out of your way when you decide to storm a descent.
It's the best full-suspension e-MTB we could find for the money!
Close second! Hardcore Mountain Bike With Long Range Suspension

MSRP $5,699
Class: Class 162
Speed & Battery: 15mph & 504Wh
Features: 160mm/150mm front and rear suspension, 29″/27.5″ front and rear tires, 62-mile max range, 70 Nm max power
The idea behind electrified mountain bikes is to help you conquer stubborn hills more easily and leave you with more energy to hit descents and have more fun.
Intense Tazer Expert is not the fastest e-bike out there, but its high-end components and electronics make it one of the most capable ones.
It comes equipped with a Shimano Steps E7000 motor that offers 70 Nm of max power and assists your pedaling up to 15 mph.
The battery has an impressive 504Wh capacity that offers a 62-mile max range. That's more than enough for a very long day on the trails.
Intense Tazer Expert has a few other smart solutions as well. Its carbon frame is optimized for 27.5″ wheels in the back and 29″ at the front, which gives you the best possible handling. 
This bike also comes with Fox Performance Float front and rear suspension with 160mm/150mm of travel — capable of tackling some seriously demanding terrain.
A few other smile-inducing features include a Shimano SLX 1×11 drivetrain, Maxxis Minion 2.6″ (F) and 2.8″ (R) tires, and 4-piston Shimano hydraulic brakes.
If someone tells you that e-bikes are boring, just tell them to give Intense Tazer Expert a try – it's one of the best electric bike out there!
Giant Stance E​+ 2 Power Complete e-Mountain Bike 2020
Strong third place! Great eMTB for tough terrains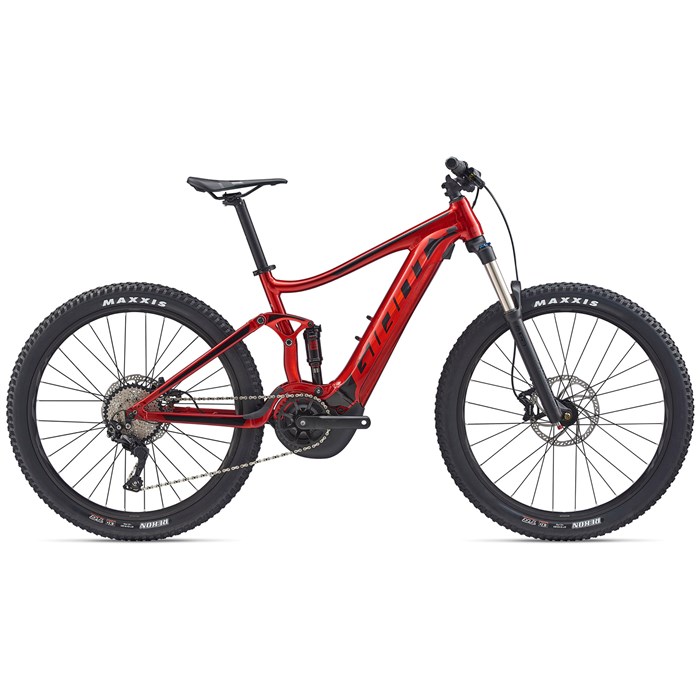 MSRP $3,700
Class: Class 1
Speed & Battery: 20mph & 500Wh
Features: 500Wh EnergyPak battery, 20 mph top speed, Shimano Deore 1 x 10 drivetrain, tubeless Maxxis Rekon tires, 130mm/120mm front and rear travel
Giant Stance E​+ 2 is the cheapest of the three e-MTBs we recommend and offers plenty of fun and performance for the money. It was easy to decide to include it on our list.
The Giant Stance E+ 2 electric MTB beast has quality front and rear suspension that makes riding singletracks and all-mountain routes a breeze.
The SR Suntour XCR 34 Air LO-R fork has 130mm of travel and the RockShox Monarch R rear shock has 120mm.
When you come face to face with a hill, just engage the Giant SyncDrive Sport motor which will assist you up to 20mph. The 500Wh battery has the longest possible range and charges up to 80% in just 60 minutes. You can recharge it while taking a break on the trails.
The motor features Smart Assist technology which gauges how much assistance to provide by analyzing rider input and terrain feedback. You'll always get optimal amounts of pedaling assistance and maximize battery consumption.
Giant Stance E+ 2 rolls on robust Maxxis Rekon 27.5″x2.6″ tires and brakes using Tektro hydraulic disc brakes paired with 203mm rotors. It's also fitted with a 1×10 Shimano Deore drivetrain, so it's capable with and without the electric boost.
Have fun downhill and chillout uphill with this Giant e-mountain bike! 
---
Best Electric Road Bikes
---
Winner! Top-notch electric road bike
MSRP $6,500 – $7,000
Class: Class 1
Speed & Battery: 20mph & 250Wh
Features: Lightweight carbon frame, removable drivepack, Isospeed decouplers, hydraulic brakes, up to 65 miles of range, Shimano Ultegra components
Domane is Trek's most popular endurance bike ever. This premium speed machine has now gotten even faster because it turned into an e-bike. Everyone can now enjoy it and ride it longer than ever before.
Trek Domane+ LT is still a high-end carbon road bike that now comes with an efficient Fazua Evation Motor with 400W of peak power and a 250Wh battery. The system is compatible with a smartphone app that lets you track the most important statistics.
As this is a Class 1 bike, the motor will assist your pedaling up to 20 mph. But, this beauty can certainly go much faster than that if you push it.
Trek Domane+ LT is a high-end road e-bike that has not lost its playful spirit, but became better than ever before.
The entire drivepack is removable, so you can save 3kg of weight if you're riding on flat roads and you don't need assistance!
In that case, you can power Domane+ LT with a Shimano Ultegra R8000 2×11 drivetrain and slow down with Ultegra brakes.
Just like the regular Domane, the e-version also comes with IsoSpeed front and rear decouplers that will make your rides a lot more comfortable.
If you want to ride faster and longer than ever before and you're ready to pay for it, Trek Domane+ LT will make your heart race.
Cannondale Synapse NEO SE
Second by a hair's breadth! Strong performer – Great technology used

MSRP $4,500
Class: Class 1
Speed & Battery: 20mph & 500Wh
Features: 250W Bosch motor, massive 500Wh battery, lightweight aluminum frame, 11-speed drivetrain, hydraulic brakes, tubeless-ready tires
Cannondale Synapse NEO SE is an endurance road e-bike that will help you ride longer than you have ever dreamed possible.
It's built around a premium aluminum frame and fitted with a SRAM Apex 1×11 drivetrain and brakes with Centerline rotors.
The heart of the Synapse NEO SE, however, is its impressive 500Wh battery. It translates to a gigantic 93-mile (150 km) maximum range and charges fully in just 4.5 hours. That makes it one of the best around.
It powers a Bosch Active Line Plus motor with 250W peak power, which is quite common on e-bikes nowadays, as it is a tried and true product.
Cannondale Synapse NEO SE is an e-bike that is ready for any kind of weather as it comes with fender mounts, so you can ride it in the rain and on any kind of road.
On such long rides, comfort is of utmost importance. Cannondale Synapse NEO SE has road-smoothing WTB 650b x 47mm tires and SAVE micro-suspension technology to achieve that.
Finally, Cannondale's smart wheel sensor will tell you all you need to know about your ride statistics and remind you about any needed service.
If you want your road e-bike to have the best possible battery range and the most modern technology, Cannondale Synapse NEO SE won't disappoint you.
Podium finisher! Sexiest tarmac machine with a decent set of components

MSRP $3,299
Class: Class 1
Speed & Battery: 15.5mph & Ebikemotion 36V/6.9A
Features: Shimano 105 2×11 drivetrain, hydraulic brakes, aluminum frame and carbon fork, discreet drivepack,
At first glance, Orbea Gain D30 does not look like an e-bike. All of its electronic parts are well-hidden in the bottom bracket and the down tube, so it takes riding it to figure out its possibilities.
This bike's name makes a lot of sense — it will help you gain momentum and maintain it when going uphill or after you become too tired to continue.
A combination of Ebikemotion motor and battery will help you reach a 15.5 mph speed and maintain it for a long time. That does not make Orbea Gain D30 the fastest out there, but endurance is its strong side.
You can control how fast you want to go and how much assistance you require using the Ebikemotion iWoc One display, which is clearly visible even under strong daily light.
In addition to these high-quality electric components, Orbea Gain D30 also boasts a Shimano 105 R7000 drivetrain with 22 speeds, as well as Shimano R7070 hydraulic disc brakes. That makes it fast and capable on any kind of terrain.
So if you're in the market for a reasonably-priced best electric road bike with an excellent money-to-value ratio, we can safely recommend Orbea Gain D30.
---
Best Electric Bikes for City Cycling
---
Best in Class! Best bang for the buck city e-bike
MSRP $1,499
Class: Class 2
Speed & Battery: 20mph & 672Wh
Features: Pedal-assist and throttle modes, front and rear lights, mechanical brakes, aluminum frame, 7-speed drivetrain
Rad Power have established themselves as a bicycle company that definitely knows what they are doing when it comes to making e-bikes. They are known for offering unprecedented value at the lowest possible price.
As a result, you can get RadCity 4 for around $1,500 and get a capable and well-built city electric bike. It differs from other models we've shown you so far in that it has both pedal-assist and throttle modes with 5 levels.
Therefore, if you don't feel like pedaling, a 750W rear hub motor can help you go up to 20 mph. This direct drive motor is combined with a 672Wh battery that can be charged by regenerative braking.
RadCity 4 is also known for its utilitarian nature. This is an e-bike built to be used every day, for commutes to work, to the shop, or running errands around the city.
It comes fitted with front and rear lights, fenders, a kickstand, and a rear rack, but you can add other accessories to make it even more useful.
For added comfort, RadCity 4 has an SR Suntour fork with 80mm of travel and grippy 26″ x 2.3″ puncture-resistant tires that ensure traction in all weather conditions.
If you have a limited budget, but you want a bike to commute, use and abuse every single day, Rad Power RadCity 4 is a choice you can't go wrong with.
Batch Bicycles E-Commuter
Second, but almost first! Top e-bike for commutes
MSRP $2,200
Class: Class 1
Speed & Battery: 20mph & 400Wh
Features: Comfortable upright geometry, aluminum frame, hydraulic discs, fenders, rear rack, kickstand, Bosch motor and battery pack
As you can guess from its name, Batch Bicycles E-Commuter is the ultimate bike for daily commutes. This simple, yet effective e-bike will impress you with the type of technology you get for a very reasonable price.
First of all, all electronics are supplied by Bosch, so you may rest assured that they will last and serve you well. The 250W Bosch Active Line Gen 3 motor is capped at 20 mph, which makes this a Class 1 electric bicycle.
Daily urban commutes don't get much better than when they're done on the Batch E-Commuter. Ditch your car and save money twice.
The battery has a 400Wh capacity, which is not the highest out there, but it's pretty decent. If your commutes are not too long, you might get away with one recharge per week. The battery also features an Abus lock that deters thieves.
The 27.5″ x 1.75″ Kenda Kwick Twenty 5 Sport tires are praised as comfortable and grippy. They're neither too narrow nor too wide for city riding.
Batch E-Commuter is ready for rainy weather thanks to plastic fenders, but it is not ready for night rides. If you want to stay illuminated and visible, you'll have to invest in front and rear lights.
To sum, Batch E-Commuter is any urban commuter's dream bike due to its accessible price, attractive looks, and decent components. It is definitely one of the best electric bikes out there!
Electra Townie Go! 7D (And women's)
Our 3rd Choice! Best city e-bike for men and women
MSRP $1,500
Class: Class 1
Speed & Battery: 20mph & 309Wh
Features: Flat foot technology, Hydrive LED display, 7-gear drivetrain, 50-mile maximum range, wide balloon tires, mechanical discs
Electra Townie is one of the best-selling cruiser bikes that is now available as an e-bike as well. It is a solid and stable bicycle that's characterized by comfort and practicality.
It's not as flashy as some other models on this list, but it still looks pretty good. If you live close to a beach or you like cruising casually, it will fit the image well.
First of all, Electra Townie Go! 7D is a Class 1 pedal-assist e-bike with a decent 250W motor and a 309Wh battery. It will provide you with solid assistance in most situations unless you're very heavy and you try to attack a steep hill — don't expect miracles.
One of Electra Townie's biggest selling points is the patented Flat Foot Technology that lets even short riders plant their feet on the ground without getting off the bike, ensuring maximum stability and confidence.
In addition to e-components, this bike also features a Shimano Revo shifter with 7 speeds. The only downside is that it does not come with fenders or lights, but it does have a kickstand.
So, if you want a comfy electric ride with wide tires, sweptback handlebars, and step-over or step-through frames, Electra Townie Go! 7D is a great choice for both men and women.
---
Best Cargo Electric Bikes
---
Our Favorite! Best-equipped cargo e-bike

MSRP $$
Class: Class 2
Speed & Battery: 20mph & 672Wh
Features: Robust aluminum frame, sturdy cargo area, wooden footrests, regenerative breaking, fenders, lights, throttle
Rad Power Bikes makes affordable, high-quality bikes and RadWagon electric cargo bicycle is no exception. Most e-cargo bikes out there cost thousands of dollars, but RadWagon remains well-below the $2,000 mark.
Its frame is constructed using lightweight 6061 aluminum, whereas the fork is made from durable steel. However, due to oversized tubing, the weight of the entire bicycle is 73 lbs., which seems rather heavy.
But, that weight makes more sense when you realize that RadWagon has everything you'll ever need to transport heavy cargo loads.
Rad Power's RadWagon offers practical value that's almost impossible to find elsewhere at the same price point.
The rear rack is integrated and incredibly sturdy and comes with wooden footrests that double as cargo support. You can ride it day or night, rain or shine, thanks to front and rear fenders and lights.
The RadWagon electric cargo bike is powered by a 750W, 80 Nm motor and a 672Wh battery, so it can go strong for long. It features a throttle as well, which will make it easier to start pedaling under heavy load.
It rolls on Kenda K-Rad 26″ x 2.3″ that are perfect for the job. They offer puncture-protection so there's no need to worry about flats.
If you buy RadWagon, we recommend making it truly your own by equipping it with some of the numerous available accessories: baskets, panniers, kids seats, passenger seats, handrails, and so much more.
Runner up! Best practical design and maneuverability
MSRP $3,400
Class: Class 1
Speed & Battery: 20mph & 400Wh
Features: Benno's Etility design, strong steel frame, 110 lbs. cargo limit, one-size-fits-all frame, wide 20″ tires, Bosch motor and battery
Many cargo e-bikes have one big problem — they're clunky and hard to maneuver. That's why Benno invented the Etility design. It is characterized by excellent mobility that's not impaired by the ability to carry very heavy loads.
You can accessorize the frame with numerous add-ons, such as front tray, child seat, panniers, bags, and a lot more. The frame fits riders between 5'1″ and 6'1″, which is a pretty decent range.
To haul a big load, you need a lot of power. The 250W Bosch Performance motor certainly does not lack it and it can supply it for a long time thanks to a 400Wh battery. You can keep notice of all the most important stats on the Bosch Purion display.
Benno RemiDemi has a sturdy steel frame with a low-step design and tall handlebar that makes it easy to get on and off and puts the rider in an upright position.
Benno RemiDemi also comes with a comfortable spring-loaded saddle and wide 20″ x 4.25″ tires that grip well and absorb bumps and vibrations.
It is equipped with powerful hydraulic disc brakes and a Shimano Sora rear derailleur that are capable of dealing with heavy loads.
If you want a cargo bike that handles like a MTB even when fully loaded, Benno RemiDemi's Etility design is just the thing you need.
Strong Third Pick! Excellent for riding kids
MSRP $5,025
Class: Class 1
Speed & Battery: 20mph & 400Wh
Features: Bosch motor and battery pack, 66 lbs weight, aluminum frame, Chromoly fork, Shimano Deore LX drivetrain, hydraulic disc brakes
Yuba Spicy Curry has a name that stands out from the bunch, but its looks follow the same pattern. This bike is built to carry heavy loads, so everything on it is designed to support that idea.
Yuba's essence is a lightweight aluminum frame coupled with a Chromoly fork. The frame is pretty low, so it's easy to get on and off even when the bike is fully loaded.
Yuba Spicy Curry comes with an integrated rear rack which is impressively long. You can easily fit two kids back there and have some spare room for panniers or kids' school bags.
Yuba Spicy Curry is powered by a 250W Bosch motor and a Bosch 400Wh battery, both of which provide enough juice to move heavy loads. In addition to the rider, this bike can haul 300 lbs. of extra weight!
At the heart of the drivetrain is a Shimano Deore LX rear derailleur that provides 10 easy gears. This is a decent mid-range groupset.
Yuba also has differently sized wheels, which makes steering and handling easier. The Schwalbe Big Apple Plus tires are 26 x 2.15 at the front and 20 x 2.0 in the back.
The best part about Spicy Curry is that it comes with numerous free add-ons: two mini soft spots, sideboards, deck, pin lock, 2-Go Cargo Bags, hold-on bar, double kickstand, lights, fenders, and more!
---
Best Folding E-Bikes
---
RadMini Electric Fat Bike
Number One Choice! Best Electric Fat Folding Bike
MSRP $1,499
Class: Class 2
Speed & Battery: 20mph & 750Wh
Features: Folding frame, wide 20″ tires, 672Wh battery, front and rear lights, twist grip throttle, mechanical discs.
Folding bikes are extremely practical, but electric folding fat bikes are on another level! Rad Power RadMini 4 has fat tires, folds into a compact package, and runs on electricity. That makes it our top choice in this category.
When you decide to take it for a spin, the 672Wh battery will give you a 45+ mile range, which is pretty decent. The 750W geared hub motor is capped at 20 mph and operates in pedal-assist and throttle modes. Thus, RadMini can assist your pedaling or it can go on its own.
RadMini 4 is built so it takes as little space as possible when not in use. It folds down small in three easy steps, so you can carry it in your trunk, on the train, or store it in your apartment.
This compact bicycle is capable of dealing with paved and unpaved roads thanks to 20″ x 3.3″ Kenda K-Rad tires with puncture protection. This is a rare folding e-bike with fat tires.
The out-of-the-box version comes with front and rear fenders and front and rear lights that are powered by the battery.
Don't let the "mini" in RadMini's name fool you. This small bike can pack a strong punch and help you commute longer and ride more often.
Just Behind! Most functional electric bike
MSRP $$
Class: Class 1
Speed & Battery: 20mph & 300Wh
Features: 2 or 6-spd drivetrain, steel frame, 20-45 mile range, three colors, lights, 16″ wheels, Schwalbe Marathon Racer tires
Brompton Electric comes from England and it was designed to be as practical as possible. Like all other Brompton folding bikes, it folds down in three easy steps, so you can catch the train even when you're running behind.
This bike's folded dimensions are 565mm high x 585mm wide x 270mm long (22.2″ x 23″ x 10.6″), so it's pretty compact. Combine that with a 38 lbs. total weight and you can carry it around or take it up the stairs.
Brompton is built around an indestructible steel frame with a rigid steel fork. The 250W front hub motor is more than powerful enough to get you going as fast as 20 mph.
Brompton Electric is a pure British-made bike that combines practicality, versatility, and style in a tiny package.
The battery has 36V and 300Wh, so it ensures a range between 20 and 45 miles. You can track the state of the battery and other important data on a bright LED display.
Brompton Electric also features 2-gear and 6-gear drivetrains and quality rim brakes. Ride it day or night, rain or shine thanks to a set of fenders and front and rear lights that shine bright.
Brompton Electric is a classic and classy-looking folding electric bike that you should buy if you feel the same way.
Third Time Lucky! Unique rear suspension 

MSRP $800
Class: Class 2
Speed & Battery: 15.5mph, Wh N/A
Features: Pedal-assist and throttle mode, 3 levels of assist, LED headlight, rear suspension, 25-mile range
Jetson Metro is all you need for a comfortable urban ride and a commute that combines cycling and public transportation. This is one of the rare folding e-bikes that features rear suspension that will absorb the bumps and vibrations created by rough city roads.
The Metro e-bike folds down quickly into a compact package by collapsing the handlebar, the frame, and the pedals. Magnets located on each tire secure the bike in its folded position, so you can safely lift it or carry it around.
A special feature of Jetson Metro is that it can be ridden in pedal-assist and throttle modes. Therefore, you can keep the bike going even when you're not pedaling.
The company does not state the capacity of the battery, but the maximum range this bike can achieve is 25 miles. That's not too much, but it's enough for a few days of riding or commuting to work.
If you choose to ride with no assistance, you'll be dealing with a single-speed drivetrain that's good for flat terrain. Pick up too much speed, and a set of mechanical disc brakes will slow you down efficiently.
If you're on a tight budget, but you want a best electric bike that folds, Jetson Metro is a great choice if you don't mind the limited range.
---
Best E-bikes For Women
---
Best in Class! No-maintenance carbon belt
MSRP $3,999
Class: Class 1
Speed & Battery: 20mph & 400Wh
Features: Stepless Enviolo Trekking integrated rear hub, ultralight aluminum frame and fork, hydraulic brakes, 47mm wide tires
Full review of Priority Bicycles
Priority Embark is a remarkable women's electric bicycle outfitted with some of the best technological solutions money can buy at the moment. Technically, this is a unisex bike, which means it fits men and women equally well.
The main characteristic of Priority's bicycles is that they all come with a carbon belt instead of a chain and an integrated gearbox. 
The carbon belt on Priority Embark requires no maintenance and will not stain your pants or your dress because there's no grease on it.
Embark is fitted with an Enviolo Trekking stepless integrated rear hub with a 380% gear range. That's comparable to a hybrid bike gearing, so it will take you up any hill and it's super-easy to use.
In terms of electronics, this bike is powered by a Bosch Active Line Plus motor and a 400Wh Bosch battery. The estimated range is 50 miles, and there are 4 assist modes to choose from.
Embark also boasts front and rear fenders, front and rear lights. This bike is best suited for urban settings, but its 47mm wide WTB tires can deal with unpaved roads as well.
Get it if you want a maintenance-free bike that you can ride every day for miles and years to come.
Second-Best Choice! Excellent price, even better components
MSRP $2,500
Class: Class 1
Speed & Battery: 20mph & 400Wh
Features: Bosch electronics, lowstep frame design, 9-speed Shimano drivetrain, suspension seatpost, hydraulic disc brakes
Trek Verve+ 2 Lowstep is an affordable e-bike that will completely change the way you look at urban cycling. Don't get us wrong, this is not a cheap bike, but it is reasonably-priced considering the value.
This is a Class 1 e-bike that features a pedal-assist system that sustains speeds of up to 20 mph. If you want to go faster than that, you'll need to use your legs.
It's equipped with Bosch electronics all over the place, which includes a 250W Bosch motor and a 400Wh Bosch battery. The battery is 50% charged in 1.5h and fully charged in just 3.5 hours!
Trek Verve+ 2 comes out of the box with fenders, lights, and a rear rack, so you're ready for urban riding in all conditions.
This bike is called lowstep because of the frame's design that gives you ground-level standover clearance. If comfort matters to you, you'll like the suspension seat post that absorbs a lot of road vibrations and smooths out your ride.
Verve+ 2 also sports a 9-spd Shimano Alivio drivetrain and Shimano hydraulic disc brakes, both of which are perfectly suited for city riding.
Buy it if you want a lowstep women's electric bike that does not cost much but has everything to meet your daily cycling and commuting needs.
Our Third Pick! Longest-range women's electric bike
MSRP $2,100
Class: Class 1
Speed & Battery: 20mph & 400Wh
Features: 20 to 100-mile range, Bosch electrical parts, Flat Foot Technology, aluminum frame, steel fork, Shimano components, disc brakes
If you want to ride long distances, you need a bike that can do that. Electra Townie Go! 8D is the right e-bike for the job. This good-looking electric bicycle has a 100-mile maximum range, which is absolutely massive!
You can thank the Bosch electronic parts for that, especially the 400Wh battery. The 250W motor will support your pedaling up to 20 mph, which makes Electra Townie Go! a Class 1 e-bicycle. 
Electra Townie Go! 8D cruiser bike features an 8-speed Shimano drivetrain that's perfectly suitable for casual rides along the beach and tackling some hills on the way home.
Other notable parts include Tektro mechanical disc brakes and wide 26″ x 2.35″ tires that greatly improve comfort and safety.
Electra Townie Go! 8D is made with a lightweight aluminum frame that features Flat Foot Technology. It allows riders to touch the ground while sitting on the saddle. That works wonders for confidence.
Depending on how much support you need, you can choose one of the four available pedal-assist levels using the display controller: Eco, Tour, Sport, and Turbo. The Eco mode will give you the longest range, but the Turbo mode is the most fun!
Before you make the final decision, check out the categories above as well, there are several other women's bikes that might meet your needs!
---
Motor & Watts
There are two kinds of motors you can see on best electric bikes: Crank (mid-drive) and Hub motors. Both of them have pros and cons and are usually seen at different price points.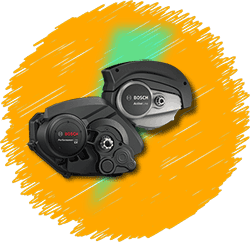 Crank motors are more popular and they're fitted around the bottom bracket. They transfer power directly through the cranks as you're pedaling. More expensive crank motors have sensors that analyze the amount of pressure you put on the pedals, providing assistance accordingly. Cheaper models have motion sensors so the motor kicks in whenever the pedals are turning.
Hub motors can be seen on both front and rear wheels, though it's much more common to see them on rear wheels. They're an excellent choice as well, as they give you the possibility to use them in throttle and pedal-assist modes. But not all hub motors have this option. Plus, they can be retrofitted on "regular bikes" as electrical kits.
When it comes to Wattage, most e-bike motors provide 250W, 500W, or 750W of power. In this case, as you can guess, the more you have the faster you can go and you can also tackle steeper hills.
Battery & Watt-Hours (Wh)
Pretty much every e-bike sold nowadays has a lithium-ion battery that provides the best energy-density compared to the price and the weight penalty. Most batteries are placed on or inside the downtube, but they can also be placed on the rear rack.
The capacity of a battery is measured in Watt-hours (Wh), and the most common values you can see associated with e-bikes are 250Wh, 300Wh, 400Wh, or 500Wh. The more, the merrier.
Most electric bikes nowadays have a minimum range of around 20 miles, whereas the maximum range can exceed 100 miles if all conditions are right.
Things that can affect the range of the battery include the weight of the rider, the level of pedal-assistance, temperature, terrain, and so on.
Other Features of Best Electric Bikes
As electric bikes are rising in popularity, manufacturers are paying more attention to other features that improve comfort, safety, and battery efficacy. Some common trends seen recently include:
Integrated batteries with locks
Manufacturers are starting to develop ways of integrating batteries more seamlessly into the frame and making them as inconspicuous as possible. As a result, a lot of e-bikes nowadays look like regular bikes at first glance.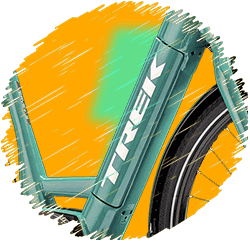 Nowadays, batteries are also removable and lockable. As batteries are pretty vulnerable to thefts, it's important that you can lock them and deter thieves from trying their luck.
Being able to remove a battery also means you can take it with you and protect it from theft, but you can also carry your bike more easily up stairs or simplify battery charging.
Electrical components add a lot of weight to the bike, so e-bikes are quite a bit heavier than regular bikes. Wider tires are important to provide additional support, as well as improve grip and comfort.
Most e-bikes are used for urban rides and commutes (there are exceptions, though), so wide tires make it easier to navigate less-than-ideal city streets, potholes, and traffic.
Most e-bikes come with battery-powered lights that turn on the moment you power up the bike. This is a fantastic feature to have, but it's not a dealbreaker as you can install a lighting system on your own.
As e-bikes are heavier than regular bikes and develop high speeds more easily, they need good brakes to slow down and stop. Disc brakes have become the go-to solution as they provide the most braking power and the best precision.
Finally, a lot of city e-bikes come with a rear rack and fenders out of the box. Again, as with lights, it's not a dealbreaker if yours doesn't. You can add these easily on your own without spending much.
F.A.Q
1. Should I buy an e-bike?
E-bikes go faster than regular bikes, they're easier to ride uphill, you don't tire or sweat as much when riding in warm weather, and they save your joints. E-bikes also make it possible to continue riding after an injury or into old age. If you find these advantages attractive, then you should buy an e-bike.
2. How fast can e-bikes go?
Class 1 e-bikes usually go up to 15.5 mph or 20 mph. Class 2 e-bikes are usually limited to 20 mph as well, both in throttle and pedal-assist modes. However, Class 3 e-bikes are faster and they can go up to 28 mph usually.
3. Can you ride an e-bike without the battery?
Yes, you can ride an e-bike without the battery. You won't be able to use the pedal-assist feature, but you can still ride with the power of your legs.
4. How far can an e-bike go?
Most best electric bikes have a range of 20-30 miles. But, depending on the weight of the rider, the capacity of the battery, the terrain, and the level of assistance, the range can be shortened or extended. Some e-bikes can even go up to 100 miles on one charge.
5. How long does it take to charge an e-bike's battery?
Depending on the size and the quality of the battery, most e-bike batteries will fully charge between 3 and 6 hours.
6. How much do e-bikes cost?
E-bikes are more expensive than regular bikes. You can get a basic model for as little as $500, but you can also spend more than $10,000 on your electric bicycle. The average price range for quality e-bikes is between $1,000 and $3,500.
7. How long do e-bikes last?
E-bikes can last for a long time if you take care of them. They require regular maintenance just like standard bikes. The weakest link on e-bikes is the battery, which will have to be replaced after some time. Most Lithium-ion batteries hold up to 1,000 charge cycles and start showing signs of weakness after 3-5 years.
8. Are e-bikes worth it?
Yes, e-bikes are worth the money if you think you will benefit from some pedal-assistance in your life. If you're struggling with an injury, getting old, or just want to arrive at work fresher after your daily commute, you'll find lots of value in an e-bike. They're more expensive than regular bikes, but they help you save money on gas and public transportation in the long run.
9. Can you get fit with an electric bike?
Yes, you can get fit with an electric bike. An electric bike still lets you pedal whenever you want. You can adjust the level of assistance you want to get, so you can opt for the lowest level of assistance when going uphill if you want to work harder.
10. Can I ride an e-bike in the rain?
Yes, you can ride an e-bike in the rain. Electrical components such as the motor and battery are sealed and protected from water, so you can commute in the rain. However, it is not advisable to leave your bike (any bike) in the rain for prolonged periods of time, as rust can appear on certain parts and water can compromise the bearings.
11. How much do e-bikes weigh?
E-bikes usually weigh between 45 and 60 lbs. However, there are some e-bikes that weigh less or more than that, depending on frame material, the quality of the components, and the size of the battery.
Final Thoughts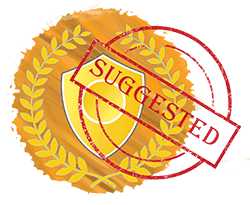 E-bikes are phenomenal inventions that are slowly beginning to change the face of cycling. More and more people are starting to commute by bicycle to work or to the store. Moreover, people with injuries or bad joints can continue riding bikes and stay fit and healthy.
If you need an e-bike to continue cycling or you think it would be fun to have one, you can consider one of our favorite models we've shown you above, depending on the category you're interested in.
E-bikes often cost more than regular bikes, but they're invaluable to the right people, and it's very easy to fall in love with them once you get a taste of pedal assistance.
Let us know what you think about e-bikes in the comments below!
Source link