The Best Trail Bikes of 2023
"],"filter":"nextExceptions":"img, blockquote, div","nextContainsExceptions":"img, blockquote, a.btn, a.o-button","renderIntial":true,"wordCount":350}">
There are just too many incredible mountain bikes on the market this year, so we decided to divide up the categories to spread the love around. This year's round-up of trail bikes range from hard-charging downhill-oriented beasts to more cross-country-style rippers. Between these eight top picks, you're sure to find a bike that will make you grin from ear to ear.
The Winners at a Glance
Trek Fuel EX
Reeb SST
Allied BC40
Ibis Exie
Scott Genius ST
Santa Cruz Hightower 3
Revel Rail 29
How We Test
Number of Testers: 5
Number of Products Tested: 15
The bikes included in this roundup are the result of our trail bike Field Test in Whistler, B.C., Canada performed by Pinkbike team in 2022, as well as rolling testing done in Whistler and Bellingham, Washington throughout the year. We tested five bikes at the fall trail bike field test in Whistler, half the time biking lift-accessed descents, and the other half of the time pedaling. The end of the season conditions were just that: rocky, steep, and rough (AKA, the perfect conditions to test trail bikes).
Meet Our Lead Testers
Managing tech editor for Pinkbike, alien skeptic.
Tech editor for Pinkbike, believe in aliens (or lizard people at the very least).
News editor for Pinkbike that sometimes moonlights as a tech editor.
Content manager for Pinkbike, former elite level cross-country mountain bike racer.
Editor's Choice Winner: Trek Fuel EX 9.9 ($10,750 as tested)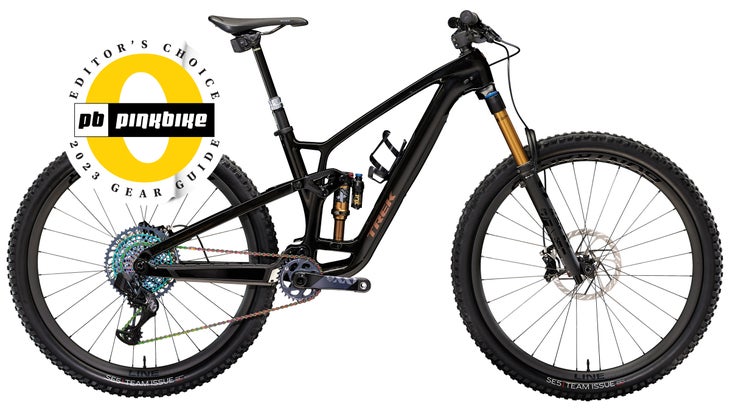 Build: XX1 AXS
Weight: 31.9 pounds
Pros: Fun and and capable in all trail conditions
Cons: All the expensive tech adds up to a high price tag
Best for: Mountain bikers looking for one great mountain bike for all their singletrack needs
The Fuel EX name first showed up in Trek's catalog way back in 2005 with just 100 millimeters of suspension. Like other long-lived models, every iteration since has either gained travel, gotten slacker and longer, or received other updates to make it a more capable trail bike. Eighteen years on and the 2023 Fuel EX receives a similar treatment, with an all-new 140-millimeter travel frame paired with a 150-millimeter fork and highly adjustable geometry.
While the version we tested was the flagship EX 9.9 XX1 AXS, we know that Trek does a great job of trickling down key features throughout the Fuel EX line. Trek's direct competitor, Specialized, may have been the first brand to introduce downtube storage compartments to its mountain bikes, but Trek has refined the concept and we hope every mountain bike brand follows suit so we don't have to strap repair items to our frames.
The Fuel EX has adjustable geometry via the Mino Link, which joins the rocker link to the seatstays. This adjustment offers riders a half-degree head angle change. Riders can further adjust handling with Trek's headset cups that change the stock 64.5-degree head angle by a full degree steeper or slacker. These adjustments are great for riders looking to fine-tune the handling to suit their local trails, though we found the stock set-up was perfect for our needs on the trails of British Columbia and Colorado.
There's plenty of traction on tap for climbing, but there's also more support than the old Fuel EX—it's not as eager to sink into its travel, with a better platform to push against when standing up out of the saddle. That grip on the climbs transfers  fluidly  to the descents, where the Fuel EX has a nice fluttery feel, calmly smoothing out the trail chatter and allowing us to maintain our speed.
The Fuel EX feels like a bigger, more capable bike than its predecessor, which isn't surprising considering that it has 10 millimeters more travel to go along with that longer and slacker geometry. Despite having more suspension travel on both ends and being a much longer, slacker bike than its predecessors, the latest Fuel EX is much easier to pump and carry speed, a notable trait for a bike meant to be ridden everywhere and anywhere. —Mike Levy
Reeb SST ($9,850 as tested)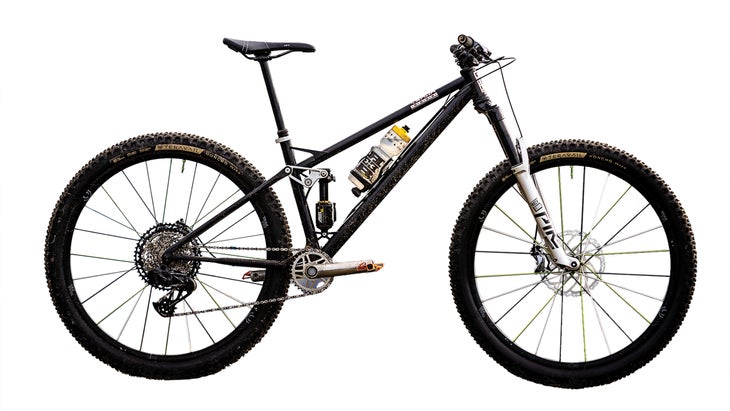 Build: SRAM XO1 AXS
Weight: 31.3 pounds
Pros: U.S.-made frameset; impressive traction; feels like it has more suspension than its numbers suggest
Cons: Lighter and less expensive options are available
Best For: Riders looking for a fresh take on the short-travel trail bike
It's not often that the words "high tech," "steel frame," and "full suspension" are used in the same sentence, but that is the Reeb SST in a nutshell. The small Lyons, Colorado-based small batch brand has made one of the most exciting mountain bikes we've ridden in several seasons by combining a traditional frame-building material with high-tech, 3D-printed frame parts and modern trail bike geometry.
Admittedly, the 120-millimeter SST is a niche product compared to the sea of carbon fiber trail bikes, but it proved to be a surprisingly good all-arounder during our tests. With tons of grip and a calm, planted demeanor, the SST eats up tight corners and switchbacks, and seemed to fit into awkward bits of trail that stymied other bikes a bit more. The bike's suspension is quite active and supple over small impacts that you might not see but that affect traction, which goes a long way to make the SST feel like it has more suspension travel than its numbers suggest. Similarly equipped carbon trail bikes may weigh less, but the SST brings something unique and refreshing to the trail that resonated with our testers. —M.L.
Allied BC40 ($10,755 as tested)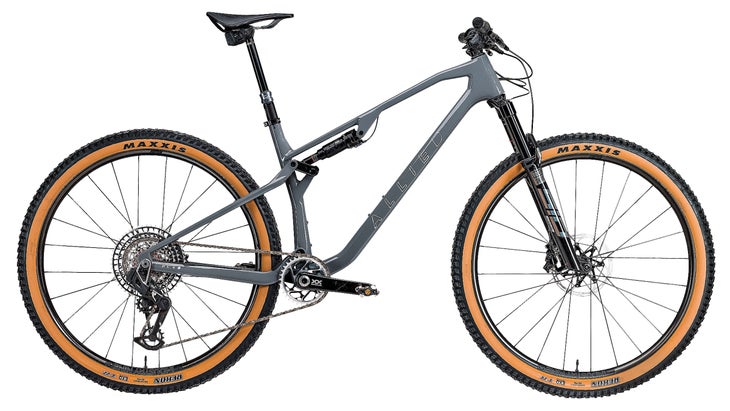 Build: SRAM XO1 AXS
Weight: 24.9 pounds
Pros: U.S.-made; great handling
Cons: Expensive and available in limited quantities
Best For: Riders wanting a high-speed race bike with a US-made pedigree
Bikes in the 120-millimeter category run the gamut from marathon race bikes to short-travel trail bikes, and the BC40 fits into the spectrum as thoroughbred cross-country racer built for today's most demanding courses. Allied designs and builds its frames in the mountain biking hotspot that is Northwest Arkansas, and it shows. With a taut suspension feel, lightweight carbon chassis, and long, slack geometry that would have been cutting edge on trail bikes a few years ago, the BC40 is ideally suited to technical stage races like the BC Bike Race and Breck Epic.
The BC40's biggest strength is its rear suspension, which packs a lot of performance into just 120 millimeters of travel. This speedster manages to be efficient when you're on the gas, supple at the top of the stroke through the sag point, and has more than enough support and bottom-out resistance to impacts and harsh landings that made us cringe when testing similar cross-country bikes. This is a very wide performance, especially as many bikes in this category seem to be making sacrifices in one or more areas to benefit another. The BC40 is a proper cross-country bike deserving of an expensive race entry fee, number plate, and your tightest speed suit. It's just that it also deserves some baggy shorts and questionable line choices during your days off. —M.L.
Ibis Exie ($10,048 as tested)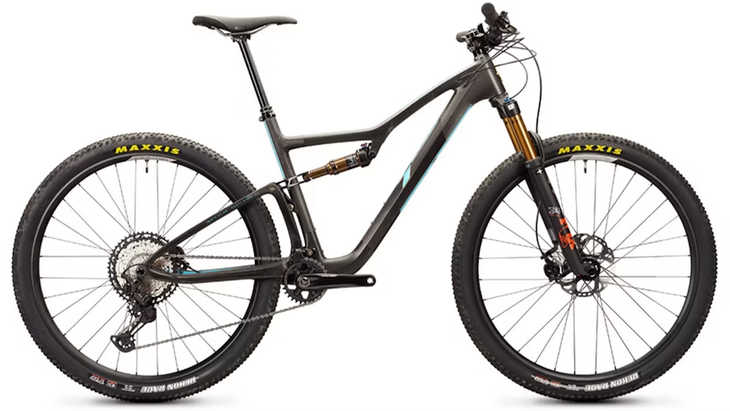 Build: SRAM X01 AXS
Weight: 24.6 pounds
Pros: U.S.-made; excellent traction
Cons: Steep head angle is obvious on the downhill; all models have same length chainstay
Best For: Uphill-oriented riders who want a forgiving bike on climbs and don't need to hammer too hard on the descents
Cross-country fanatics, pay attention to this bike. The Exie came out a year ago, and already has several podiums with Jenny Rissveds partly thanks to its 100-millimeters of rear travel, 120-millimeter fork, steep head tube angle (67.2 degrees), and insane traction. This 29-er cross country bike climbs and corners like a beast. We took it on the Mont-Sainte-Anne World Cup cross-country course, and were very glad to have the Exie on the technical and super steep sections of this trail. Its shorter 50-millimeter stem combined with the steep head angle helped with switching directions quickly when we had to make fast decisions. The DW link suspension let us power on climbs without losing too much energy because if we accidentally took a wrong turn, it felt forgiving enough to let us get right back on track.
One downside: the steep head tube angle and short stem definitely felt noticeable on the downhill. But while we felt a bit on top of the front wheel on steeper descents, the results weren't disastrous. We just had to stay on top of it and really pay attention when things got hairy. Overall, the Exie's traction is right up there with the best, and most riders will really enjoy the uphill on this bike. If you're more concerned about having fun on the downhill on gnarly trails, look elsewhere. —Sarah Moore
Scott Genius ST ($11,000 as tested)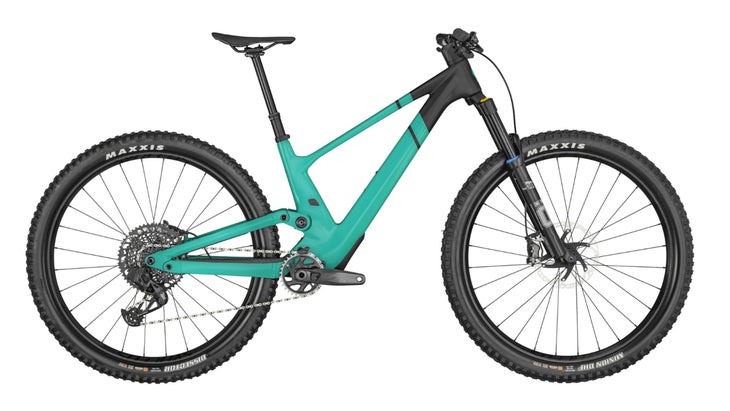 Build: 900 Tuned
Weight: 30.1 pounds
Pros: Relatively versatile; very capable on the descent; light on the ascents
Cons: Dropper housing rattles and is loud; proprietary shock, thru-headset cable touring and integrated cockpit makes maintenance more difficult
Best For: Tech and downhill-oriented riders looking for a one-bike quiver
The ST in Genius ST stands for Super Trail bike, although what that really means is that it's an all-mountain bike. The new Genius ST is more downhill-focused than the regular Scott Genius. It has 150 millimeters of travel in the front and 160 millimeters in the back, a head tube angle of 63.9 degrees, 29-inch wheels, a piggyback air shock, and an adjustable headset cups set in the slackest position. It also comes with a different Twinloc remote than the regular Genius—the ST has three modes: Lockout, Descend, and Ramp Control, the latter of which is supposed to make it more difficult to bottom out the shock, which could be nice for landing jumps (we didn't feel a massive difference, but it was still nice to have). All of this adds up to a very fun descent. High speeds and large jumps were no match for the ST, and the geometry felt responsive but not too stiff. Though the bike is light, is still felt plenty stable.
Climbing on the ST wasn't out-of-this-world amazing, but better than we expected. It did feel more like a modern enduro bike on the uphill, especially on tight, slow turns, because it wasn't very nimble. However, it still pedaled well and the light weight made it plenty manageable. The position of the seat felt right, thanks to the seat tube angle of 77.2 degrees. Still, if you're looking for a bike that's more focused on the uphill, then take a look at the Ibis Exie. If you want a downhill charger that can handle climbs just fine, look here. —Mike Kazimer
Santa Cruz Hightower 3 ($9,799 as tested)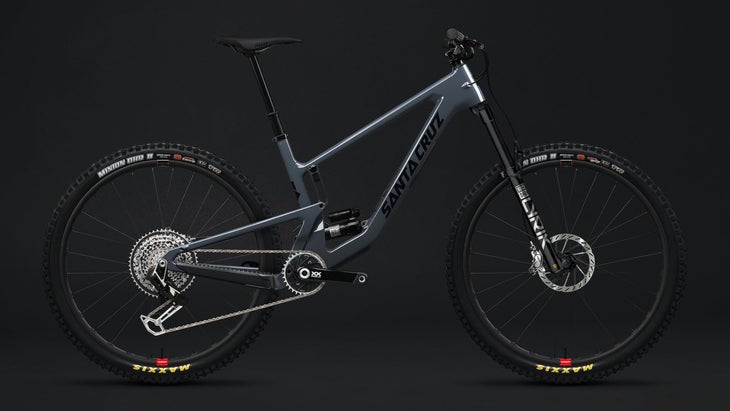 Model and Build: GX AXS Reserve
Weight: 31.5 pounds (large)
Pros: Very versatile; excellent at the corners
Cons: Not the very best at one thing in particular; expensive
Best For: All-around riders looking for a solid, stable bike that can do it all
Santa Cruz didn't make any major changes to the Hightower this year, but enough that it still rose to the top of the pack as an excellent all-arounder. The 145 millimeters of rear travel and 150 millimeters in the fork, paired with the 29-inch wheels, remains the same for this year. Perhaps the most noticeable change is the large Glovebox in the downtube, complete with padded sleeves so you can store whatever you'd like (think: extra tubes, tools, snacks, etc.). The travel was refined thanks to small changes in the pivot locations of the VPP suspension layout, adding more leverage at the start and more bottom-out resistance from the shock. There's also a very-slightly slacker front-end and 438-millimeter size-specific chainstays on the large bike.
The small tweaks to this year's Hightower just added to the versatility of an already extremely adaptable bike. It's super comfortable during a long day of steep ascents, and super manageable in techy, rooty terrain. It's not too stiff but also not too soft, making it manageable in most everything. On the downhill, the Hightower was excellent at carrying speed around corners, and it somehow always felt like we were in the right position without concentrating too hard on it. We felt like we didn't have to make as many corrections as we normally do on trail bikes like this one. Overall, the Santa Cruz does a really good job at most things, and lots of people will really get along with this bike. —M.L.
Revel Rail 29 ($5,999 – $10,999)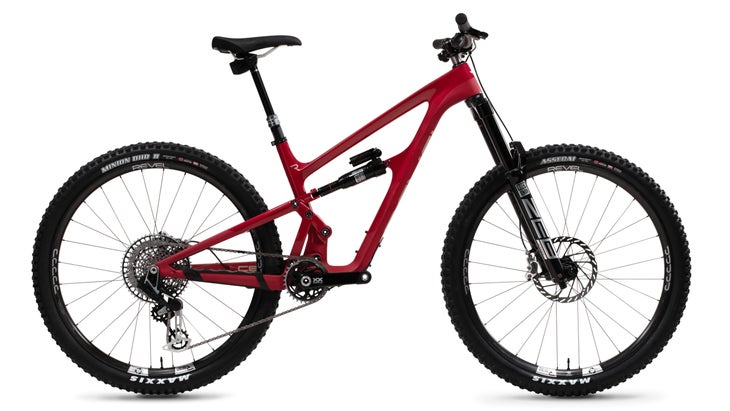 Build: X01
Weight: 31.74 pounds (large)
Pros: Balanced; good all-around; customizable builds
Cons: Same chainstay length on all builds
Best For: Trail riders looking for a snappy, playful, versatile bike that excels in many conditions 
The Rail 29 got an upgrade from 27.5 to 29-inch wheels this year, hence the "29" in the name. A few smaller improvements enhance the bikes practicality, including larger bearings for better durability, and the suspension linkage can now be taken apart with a six-millimeter hex key. Revel used the Canfield Balance Formula (CBF) suspension layout on the Rail 29, which places the center of curvature right above the bike's chainring for all of the bike's travel. Revel also downsized the yoke at the lower shock mount to make it compatible with other coil shocks as well.
But let's get to the fun stuff. Both downhill and uphill, this bike is a blast. The Rail 29's favorite way to have fun? Cornering. It wanted to play around and skip over the choppy stuff, rather than blast through it, so if you like to ride bikes in a light way, this is it. The Rail 29 also loves to get off the ground at any chance it gets. We found that it excelled on the uphill, too, although it shouldn't be mistaken for a full-on cross-country bike with its 155 millimeters of travel in the rear. The Rail 29 is efficient and responsive on all sorts of terrain, including dirt roads and techy trails. Even though the chainstay is relatively short at 436 millimeters, the moderate head tube angle (65 degrees) kept the back of the bike stable on steep sections. —Alicia Leggett
How to Buy
The trail bike category is the most saturated category in mountain-biking, so it's understandable if you're feeling a bit overwhelmed. Fortunately, there are a few easy questions you can ask yourself to narrow the field.
What kind of riding will you mostly be doing?
As much as you may want to answer this one with flowy, singletrack heaven, it's important to be realistic about what you'll actually be riding. This can be determined by the time of year that you mostly get out there (which will determine what the conditions will be like), which trails are most accessible to you, and which region you bike in. Are you planning on taking big trips consistently, or will you mostly stay local?
Will you be riding lift-accessed trails?
If most of the riding you'll be doing is lift-accessed, you may want to look in the enduro category. If you'll be doing a mix of both and are planning on hitting jumps, look for a bike that has enough travel but doesn't compromise on the uphill either.
What's your riding style?
If you prefer to charge through steep, technical sections, you could be looking at a very different bike than if you're a more playful rider who likes to find side hits. Again, be honest with yourself about this. How do you actually ride, and what's aspirational?
What's your budget like?
Yes, mountain bikes are expensive. But you do have options. Consider buying used (the market has finally gotten more reasonable this past year), by checking out Pinkbike's marketplace or looking on Craigslist. Or, check out our best value bikes page for cheaper new bikes.
Are you able to test it out?
It's critical that you take a bike at least for a spin around the block before you pull the trigger. You might find that you're really uncomfortable on a bike that certain geometry that you're not used to—and although sometimes it does take some more time on the bike—you'll know if you're just not sitting right. Taking it for a spin will also help the shop determine which size is best for you.