The Best Electric Mountain Bikes of 2023
"],"filter":"nextExceptions":"img, blockquote, div","nextContainsExceptions":"img, blockquote, a.btn, a.o-button","renderIntial":true,"wordCount":350}">
The electric-mountain bike market has grown exponentially in the last decade, and this year's options are better than ever. Whether you're looking for an option that feels the same as a regular mountain bike or you want a hard-charging chop-crusher, we singled out the best five of the year.
The Winners at a Glance
Trek Fuel EXe
Ibis Oso
Evil Epocalypse
Scor 4060 Z LT
Specialized Turbo Levo SL
How We Test
The bikes included in this roundup are the result of rolling testing done in Whistler and Bellingham, Washington throughout the year by the Pinkbike crew. We also rode some bikes at Crankworx Whistler. Conditions ranged from dusty, rutted-out downhill trails to muddy, technical rides in the rainforest of Squamish.
Meet Our Lead Testers
Managing tech editor for Pinkbike, alien skeptic.
News editor for Pinkbike that sometimes moonlights as a tech editor.
Tech editor for Pinkbike, former World Cup Downhill racer.
The Reviews: The Best Electric Mountain Bikes of 2023
Trek Fuel EXe ($13,999)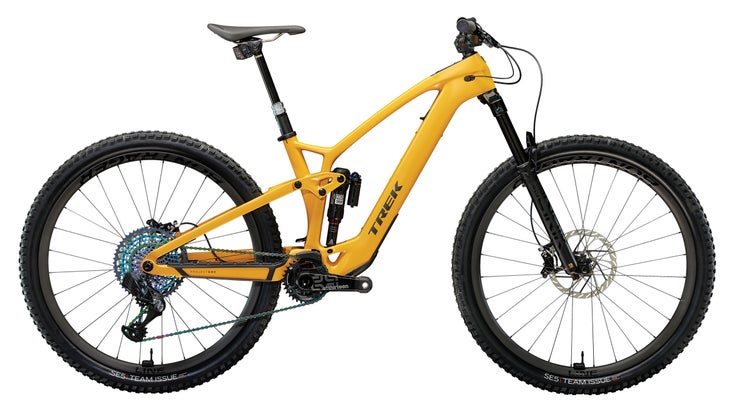 Wheel Size: 29″ (27.5″ rear compatible)
Travel: 140mm, 150mm fork
Motor: TQ HPR 50
Battery: TQ 360Wh w/160Wh extender
Weight: 40.4 lbs
Pros: Smooth and silent motor; excellent suspension; category-leading integration
Cons: Less torque and shorter range than competition; steep price tag
Best for: Riders looking for a traditional mountain bike feel
The Fuel EXe could easily fool you into thinking it's a traditional mountain bike. Trek's emphasis on integration, from the computer display built into the top tube to the incredibly small TQ motor, masks the bike's true self. In addition to being compact and having fewer moving parts than its competitors, the Fuel EXe's motor is nearly silent when pedaling at a normal cadence.
The 360-watt-hour battery housed in the downtube is much smaller than the majority of mountain bike batteries on the market, and this is by design. Trek chose to prioritize weight and ride feel ahead of raw power output. On the trail, the Fuel EXe doesn't feel like riding a traditional e-bike. Instead, the bike made us feel like faster versions of ourselves. We still had to put in the work when scrambling up steep climbs, but our efforts were rewarded with outsized speed. The 40-pound weight of the flagship model we tested is among the lightest in the category. The combination of a natural-feeling motor and a total weight that's just a few pounds heavier than standard enduro bikes make the Fuel EXe the best-riding e-bike we've ever thrown a leg over. —Matt Beer
Ibis Oso ($10,999)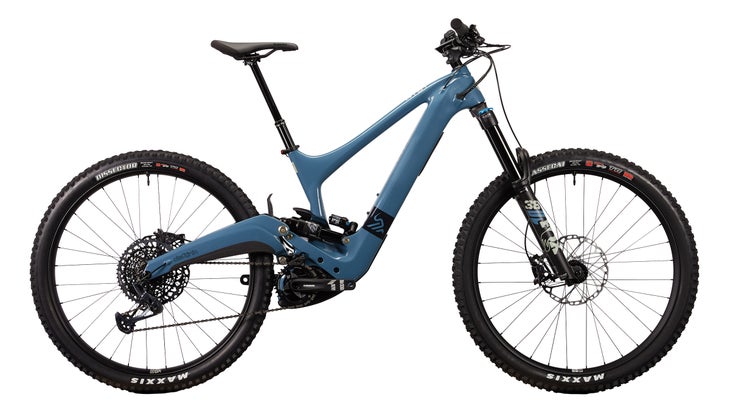 Wheel Size: 29″
Travel: 155mm (r) / 170mm fork
Motor: Bosch Performance Line CX motor
Battery: 750 Wh battery
Weight: 53 lbs
Pros: Good mix of traction and pep; Bosch Performance CX motor and 750-watt-hour battery (625 on the small frame) allow for longer rides
Cons: Handlebar-mounted display could be damaged in a crash; looks a little strange if you're into Ibis's regular mountain-bike frames
Best for: Beastly agility on tough trails
Ibis' first e-mountain bike reminded testers of the brand's Ripmo model, our 2019 bike of the year, though it boasts more suspension, mixed 29-27.5-inch wheels (in the S and M frames; the L and XL bikes are pure 29ers), and one of the best e-bike motors on the market. The Oso, Spanish for bear, boasts 155 millimeters of rear suspension paired with a 170-millimeter fork. While some mountain bike companies are launching lighter, lower-output e-bikes, Ibis decided to stay the course with a full-powered model designed for conquering steep terrain—both uphill and down.
The Oso weighs 53 pounds and features a Bosch Performance CX motor powered by a 750-watt-hour battery (625-watt-hour battery on the S frame). Despite its heft on paper, the Oso hides its weight well at high speed. There's a ton of stability, thanks to the long wheelbase, which comes in handy when you're working up through a technical section of trail. Credit also goes to the DW-Link suspension for giving the Oso a lot of pep when blasting out of corners, and the smaller 27.5-inch rear wheel on the mullet versions, for adding a dose of agility to this beast of a bike. —Mike Kazimer
Evil Epocalypse ($11,999)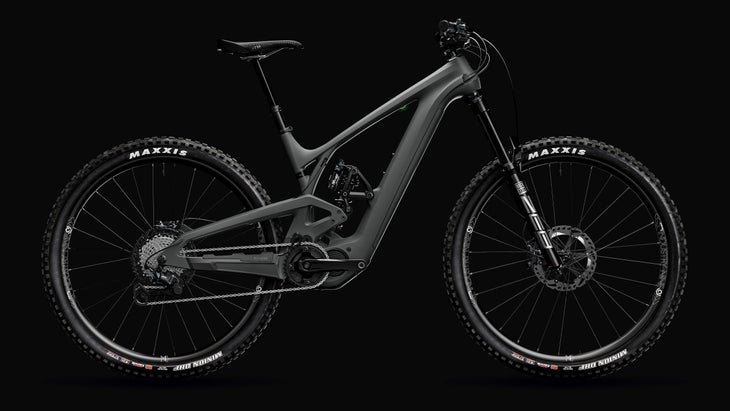 Wheel Size: 29″
Travel: 166mm rear / 170mm fork
Motor: Shimano EP8 motor
Battery: 630 Wh battery
Weight: 50.5 lb
Pros: Stays stable during steep climbs; easy to maneuver for a longer-travel e-mountain bike; top-notch suspension
Cons: Expensive; only comes in one build kit
Best for: High-speed bombing
We've been anticipating this 170-millimeter, 29-inch wheeler for quite some time now, and found that it easily lived up to the hype. With Shimano's EP8 motor and a 630-watt-hour battery, the Epocalypse sports a steeper head-tube angle than most others in the category at 63.9-64.5 degrees (you can switch thanks to a flip chip). The front of the bike still felt stable on steep climbs and descents though, most likely thanks to the heavier weight of the motor and the battery.
This e-crusher excels when it's going fast and can blast through chop, as you'd expect. It did manage on the more technical terrain just fine, but that's not what it felt built to do. However, it did handle corners with surprising ease, likely due to the sensitive rear suspension. Overall, the Epocalpyse made quick work of just about any trail. "It feels great pumped through compressions and pushed at higher speeds, it has excellent traction without feeling dead, it carries momentum and holds off-camber lines easily, and the length is medium enough to keep the twisty sections fun." —Alicia Leggett
Scor 4060 Z LT ($6,599 – 8,699)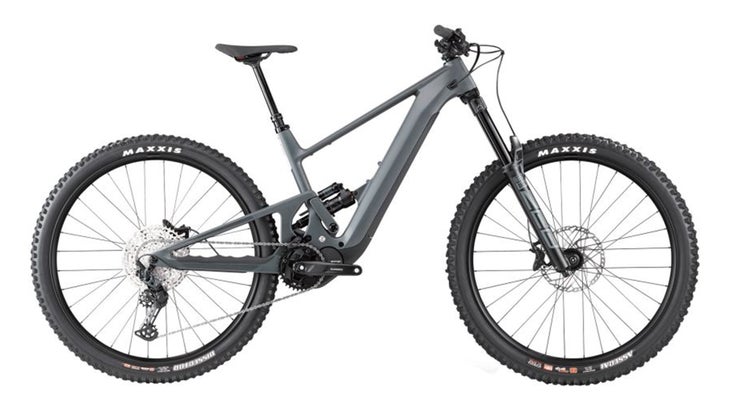 Wheel Size: 29″
Travel: 160mm, 170mm fork
Motor: Shimano EP8 – 85Nm Torque
Battery: Darfon 720Wh
Weight: 49.6 lbs
Pros: Very agile and doesn't sacrifice stability; cheap compared to other bikes on the list
Cons: Shorter chainstay pulled us over the bike through large compressions
Best for: Stability at speed
If you're going to build an e-mountain bike with a full-size motor and battery, why not opt for more travel? The 4060 Z LT is an enduro bike through and through with plenty of suspension and geometry that outshines many other rides marketed as "aggressive." This purple machine simply ate up chunky Whistler trails and didn't shy away from near-vertical chutes or uber-steep roads. On the uphills, you can stay seated and pedal through rough bits of trail and still get plenty of traction without sinking into the travel, making the 4060 Z LT an effective climber regardless of the motor. The DT Swiss H1900 wheelset was also a standout features: these rims saw their fair share of pointy rocks during the test and even though we didn't have tire inserts in there, the rims were as good as new when we finished. It's one of the more agile, full-powered e-bikes we've ridden—but it doesn't sacrifice stability, either. And while it's not inexpensive, it is compared to a lot of the bikes on this list. —M.B.
Specialized Turbo Levo SL ($8,000-$15,000)
Wheel Size: Mixed wheels / dual 29″ compatible
Travel: 150mm, 160mm fork
Motor: Specialized SL 1.2 motor; 50 Nm torque, 320 W power
Battery: 320 Wh battery, 160 Wh range extender option
Weight: 39.3 lbs
Pros: Dual 29-inch and mixed wheels compatible; highly adjustable geometry; easy to handle
Cons: Expensive; back end can feel a bit short
Best for: Eating up miles
The new Levo SL gets Specialized back into the lightweight e-mountain bike game, a market segment that's become increasingly competitive since the brand launched this model three years ago. That's thanks to updated geometry and motor technology that makes it much more versatile than the previous version.
The new Levo SL is an easy bike to handle, a trait that's helped by the reduced weight compared to a full-powered e-bike. Now, we wouldn't be rushing out to do long rides with the battery off, but it's not that hard to pedal around without any assistance, which helps reduce any anxiety when the battery level starts to get low.
The increased torque and power compared to the previous version are welcome changes, delivering more 'oomph' for getting up steep, techy climbs. That said, there's still a sizable speed and effort gap between this and a full powered e-bike—it's a lot harder to get to the top of a steep climb on the Levo SL than it would be compared to the full-power Levo. Of course, it's obviously a lot easier on either option than it would be without a motor.
The Levo SL is for riders that want something that feels much closer to a 'traditional' mountain bike, but with the ability to cover more ground in a shorter amount of time. The heavier full-power options can make mellower trails feel almost boring at times, while the Levo feels right at home on the same trails you'd typically ride on a bike without a motor. —M.K.
How to Buy
For a full rundown on how to buy an e-mountain bike in our current market, check out our guide. Editor Mike Kazimer provides tips by asking questions like: what are you friends riding? How far do you typically go? What type of riding are you planning on doing? How much money do you want to spend? Of course, you can opt to go for a regular mountain bike that isn't motored, but if you're set on going electric, make sure you're paying close attention to these factors.