Snēk Cycling Offers Made in the USA Clothing & Accessories That Perform Beyond the Bike
Snēk Cycling (as in sneak) is a company that flies under the radar yet has some coolest cycling accessories. They offer cycling accessories like handlebar bags, caps, arm/leg warmers, and, most recently, performance tees. All of the clothing and accessories from Snēk are crafted in the USA. We put their new bags, vitals case, and merino wool tee through the paces, and we're pleasantly satisfied with the results — let's start with the riding gear.
Snēk Merino Performance Tee:
It's a T-shirt, right — How complicated can it be? You understand if you've ever tried to do a long ride or workout in a standard tee. After the heat kicks in, the feeling is like being smothered in a wet blanket with a wind blocker front. The Snēk Merino Performance Tee is a mix of tech and classic (wool), ending in a shirt that you can exercise in and not look like you're going to invade Mars at the coffee shop afterward.
I found myself wearing the Snēk Merino Performance Tee more as a casual shirt than as riding gear, but that's because it's very comfy. The fit is somewhere in between casual and fitted, enough to not bulk around on the bike or be slouchy when wet. The merino wool fabric is soft and very forgiving for smelly mountain bikers. I enjoy the dark and earth-tone approach to the color pallet; it doesn't scream athletic gear, and I like that.
Price: Snēk has a Kickstarter for its Snēk Merino Performance Tee HERE
Snēk Dry Creek Summer Cap
During the summer, I'm a cap guy; I like the extra bit of sweat absorption and the cooling effect when in the wind. The Snēk Dry Creek Summer Cap merges Polartech Delta fabric with a cool, micro-fiber sweatband. The combo is breathable, lightweight, and easy to fit under a helmet. The brim is short, broad, and crafted of non-plastic flexible material that doesn't deform in the washer. The brim has enough elasticity that it doesn't look like bacon after a few stashes in a jersey pocket — because that's the worst.
It is highly recommended for those looking to keep a cool head on hot days and enjoy a classic cycling lid.
Price: $50
Snēk Stache and Stache Plus HandleBar bag
I'm a fan of a good handlebar bag, and the Snēk Stache and Stache Plus have ample room to carry your goods. To quote the Snēk site, "Just like a mustache is an accessory to the face, so is a handlebar bag to a bike."
The Stache bags are made from 500D Cordura fabric paired with lightweight closed-cell foam keeping the water out and your goods dry. It attaches with velcro straps and is safe for carbon and bar tape.
The inside of the Stache bags has a padded slot for your phone, internal pockets for tools, and external pockets for nutrition or other gear. The 9″ length is long enough to carry a pocket pump, and the Plus has additional netting on the inside for divided storage.
The YKK waterproof zipper is a nice touch and hasn't failed me yet, even when I've drastically overstuffed both bags.
I like the volume of the Plus but found myself using the original 1.4L version the most. Both are great options for those looking for a handlebar bag, plus the Cordura fabric is easy to wash and doesn't hold onto strains from road grit.
The velcro is sturdy enough to take offroad and works excellent as extra mountain bike storage. It's a mix of packing the essentials and extra for a long ride.
Stache Bag Plus size: 9″x 4.5″x 4.5″Capacity: 2.3L
Stache Bag size: 9″x 3.5″x 3.5″Capacity: 1.4L
Stache Original Bag Price: $50
Stache Plus Bag Price: $70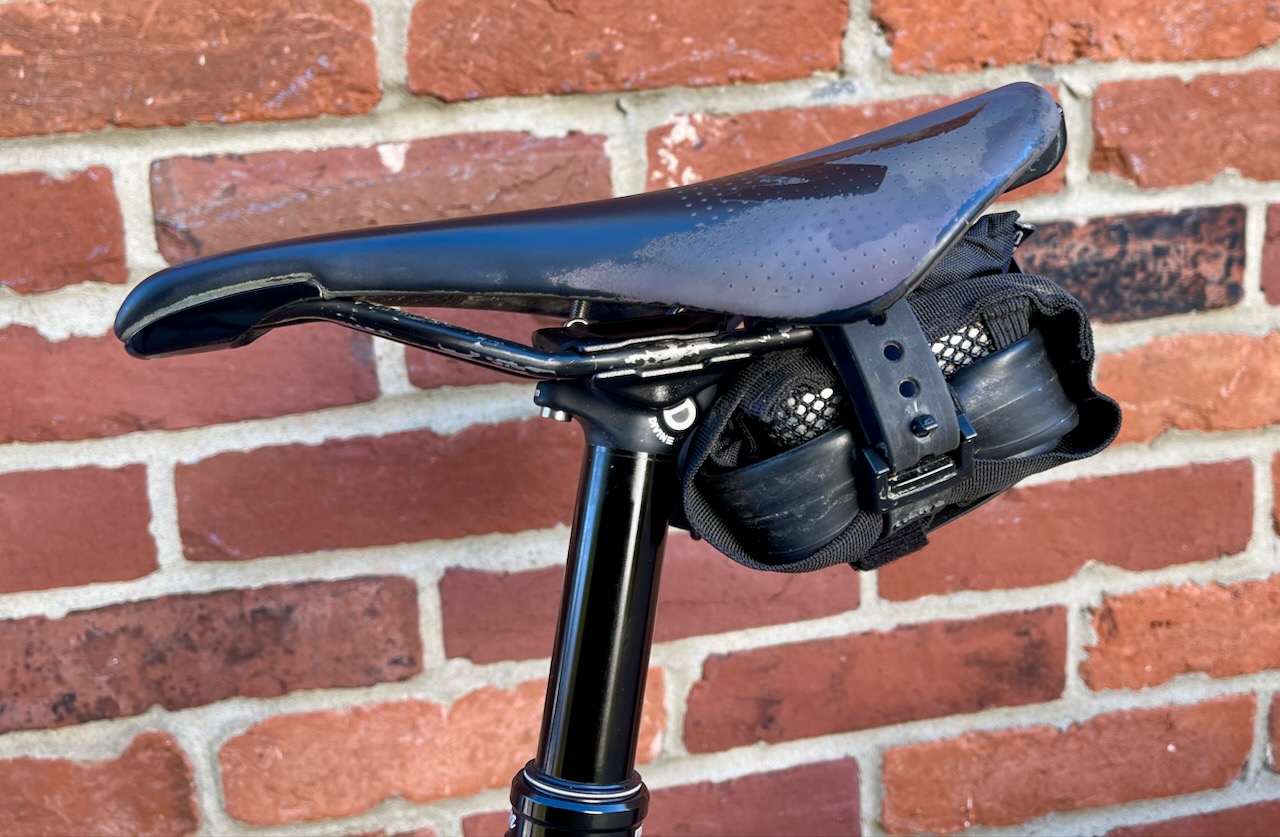 Snēk Vitals Case
The Snēk Vitals Case isn't flashy, but it's efficient. It's crafted from thick nylon webbing, rugged and versatile. The 15.5 "x 3" size is small enough for a quick stash in the jersey pocket but large enough to strap to our bike when fully stuffed.
Snēk' Vitals Case can stash a multi-tool, tire levers, Co2 inflator, tube, tire plug, and more. The foldable case is held together with a silicone band for easy over-packing and gives some extra grip when strapped to the bike.
Price: $40
For more information about Snēk check out https: Snekcycling.com