ProView – Camelbak Women's M.U.L.E. Pro 14 Review – The Link
ProView – Camelbak Women's M.U.L.E. Pro 14 Review
As an avid mountain biker, I'm always on the lookout for gear that enhances my riding experience. Typically I wear a smaller hip pack – something that just holds bear spray, a few snacks, phone, and keys. But as the days get hotter, and the rides get longer, I found myself needing more water than I could carry. 
Enter the CamelBak Women's M.U.L.E. Pro 14 100oz.
Camelbak Women's M.U.L.E. Pro 14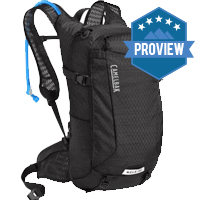 Product Name: Camelbak Women's M.U.L.E. Pro 14
Product Description: A longtime trusted companion, the M.U.L.E.® hydration pack has sustained countless riders. Enter the Women's M.U.L.E.® Pro 14. Tailored to fit female frames, the s-curved shoulder harness is specifically contoured to fit a woman's body for added comfort and stability. The all new Air Support™ Pro Back Panel was designed with body-mapping technology to address areas that retain the most heat.
Offer price: MSRP: $160.00
Quality

Features

Fit

Durability
Summary
The CamelBak Women's M.U.L.E. Pro 14 100oz is a compact little backpack, with lots of great features. It's perfect for the longer, hotter, all-day mountain bike rides when you can't carry enough water on your bike or on a hip pack. It's a comfortable fit for women, ample storage space, great pockets, and a reliable hydration system/ bladder. While I don't recommend it for shorter downhill rides, its durability and functionality make it a great choice for longer rides where you really could use extra hydration and snacks!
Pros
Comfortable fit, breathable mesh back

Ample storage space

Reliable hydration system, huge bladder

Great pocket for sunglasses

Straps in the right places, you can strap it down well so it doesn't bounce around too much on technical, steep descents
Cons
Not the most lightweight option

The magnetic bite valve is in an awkward position. It would be better if it was movable to the other side of the backpack strap.
Fit/Comfort
The Women's M.U.L.E. Pro 14 100oz features a womens-specific design that ensures a comfortable fit. The shoulder straps and back panel are "ergonomically shaped", minimizing pressure points and maximizing airflow, which is definitely the worst part about wearing a backpack on hot days – the sweaty back. The pack stays in place well enough, and even though the backpack straps are not padded, they are still pretty comfortable. The waist belt is also not padded, but is comfortable, and has a convenient open pocket flap for snacks. I am 5' 8" tall, and this pack hit me in the right spots once adjusted.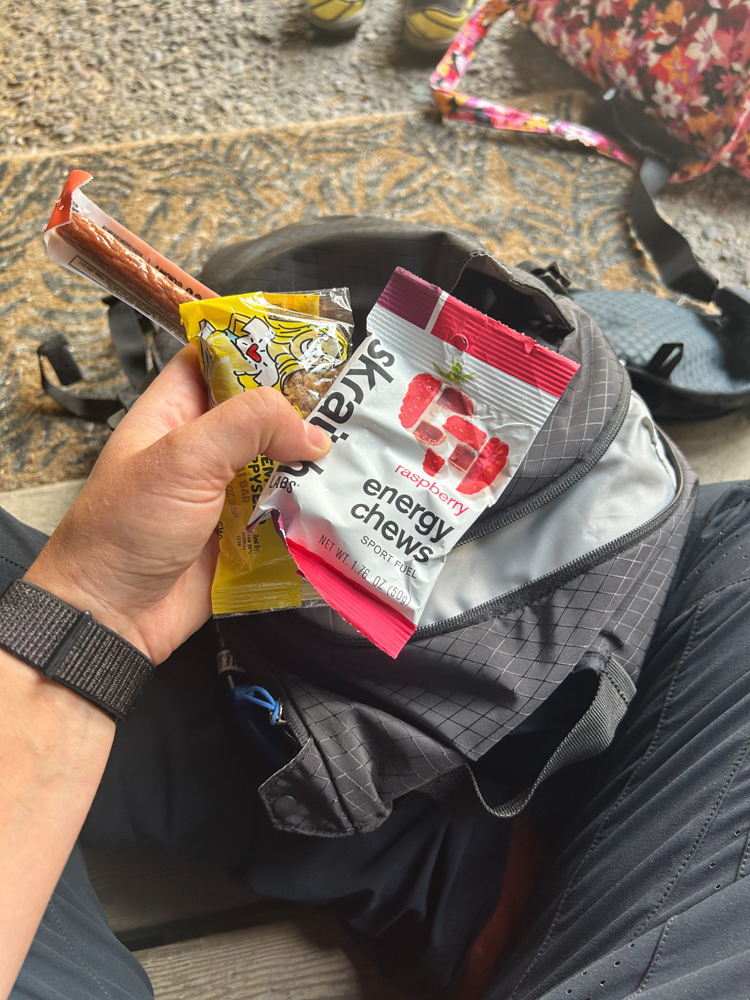 Features
I mostly appreciated the features this tiny pack comes with. The main compartment offers ample storage space for gear, snacks, and extra layers. It includes several internal pockets and compartments to keep items organized. It even has a soft pocket for sunglasses. 
The external attachment points are handy for carrying a helmet or additional gear and I loved the exterior helmet holder for the bus ride up to the top of the mountain. The integrated rain cover was also a welcomed bonus. The closure for the chest strap must be some new technology, as it's a different clasp I've never seen (it's magnetic and rotates), but once I figured it out, I found it to be super convenient and smart.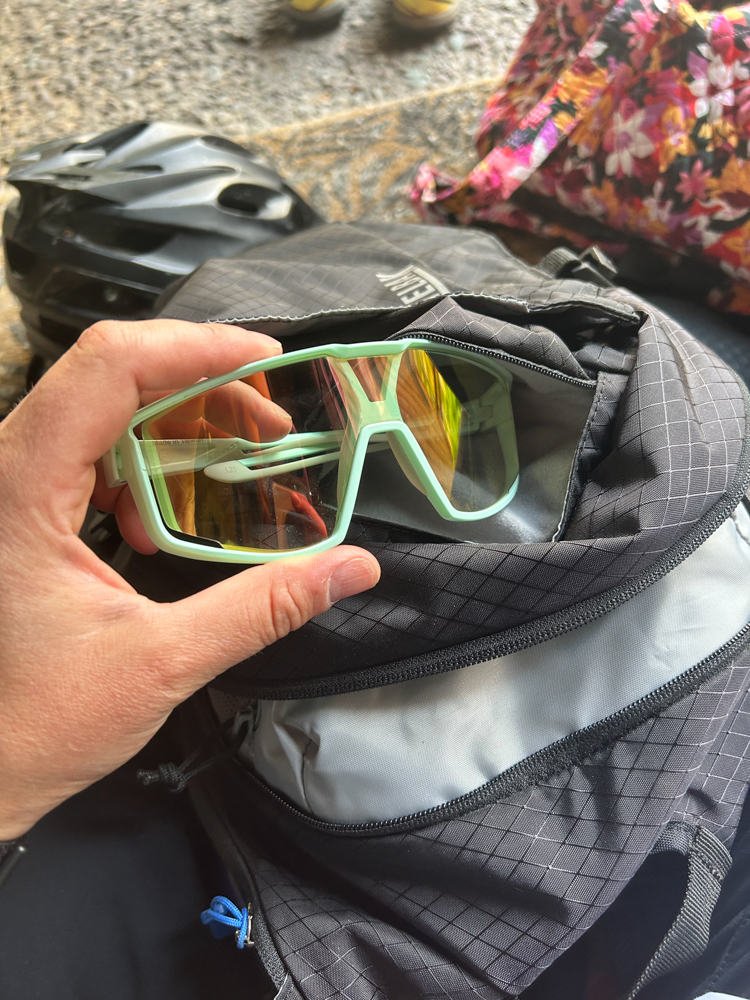 Additionally, the pack features a reliable hydration system with a 100oz reservoir, and a well-made bite valve. Also, pro tip:  I always store the bladder in the freezer to prevent bacteria from building up as well. 
The magnetic tube trap keeps the drinking tube easily accessible and prevents it from flapping around during rides. I do wish, however, there was the ability to move its magnetized position – as I'd prefer to have it on the right strap side (or choose where the magnetic clip lies), but unfortunately it's a fixed position. 
Durability/Construction
CamelBak is known for its durable products, and the Women's M.U.L.E. Pro 14 100oz is no exception. The pack is made from high-quality materials that can withstand abrasions, impacts, and the rigors of mountain biking. After extensive use, throwing it into the back of my truck, the pack showed no signs of wear or tear – the zippers and closures seem very durable, and hopefully will last a long time!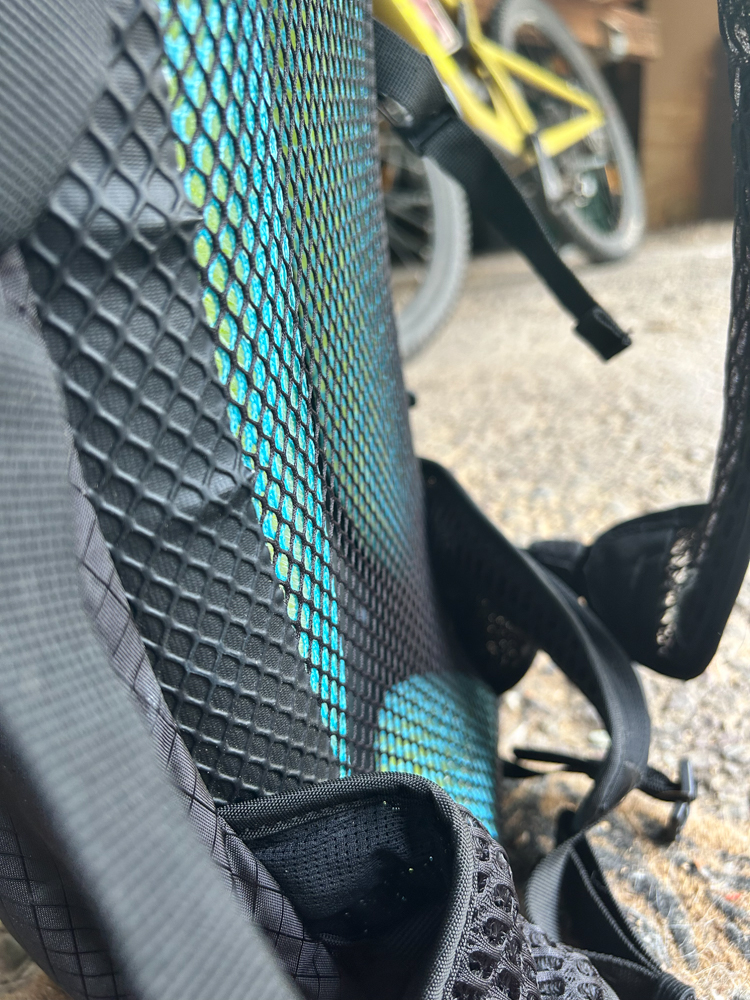 Overall, I was really impressed with this pack! The hydration system delivers water efficiently, since you can magnetize the bit valve to the chest strap. It's very convenient on tough climbs to have a valve right there ready for you. The mesh and the way the back is built, it doesn't lay flat on your back, allowing you to get a cool breeze and not overheat in hot weather. It has lots of storage, and all the convenient pockets for all the things! I found it's not just for riding – I'll also be using it on longer hiking days when I need a couple things and lots of water. 
The Final Word
When you need lots of water on long hot rides, this is your new BFF! It offers a comfortable fit, ample storage space, and a reliable hydration system, making it an excellent choice for female riders who need lots of water, snacks, layers, summit beers, or really anything at all!
---
Shop the Camelbak Women's M.U.L.E. Pro 14 on Outdoor Prolink. Not a member? Apply today!