Race officials neutralised the peloton at 2023 Classic Brugge-De Panne following a mass crash that saw riders on the ground and in the roadside ditch en route to the finishing circuits in De Panne.
"After a big crash in the peloton, the jury decided to stop the race for now with 117 km left to go," the UCI confirmed across social media channels during the race on Thursday.
After 46.1km had been completed, the crash happened with 117km to go. The race jury halted the peloton for seven minutes to assess the on-road situation along with any injuries, as team staff and mechanics worked to provide assistance to their riders. 
The 163.1km race began at the Markt in Brugge with a finish on two local circuits in De Panne with a new finish in Zeelaan. 
Strong winds were expected as the race travelled westward along the North Sea toward De Panne, with the final circuits routed through the decisive De Moeren, and combined with narrow and wet roads, made for high tension among the peloton.
Footage of the crash showed riders from UAE Team ADQ, including Marta Bastianelli and Anna Trevisi, in the ditch at the side of the road, while riders from team Israel Premier Tech Roland were on the pavement, scrambling to find their bikes.
The crash, which appeared to include eight to 10 riders, also saw Lizzie Holden (UAE Team ADQ), Lisa Klein (Trek-Segafredo), Tiril Jorgensen (Coop Hitec Products) and Jade Wiel (FDJ-SUEZ) reportedly go down. 
Meanwhile, Letizia Paternoster (Jayco-AlUla), Minke Bakker (Duolar-Chevalmeire) and Ilse Grit (Proximus-Alphamotorhomes-Doltcini) were forced to abandon the race.
Once the roadway was clear, officials re-started the race after seven minutes ahead of the approach to the final circuits in De Panne.
More to follow…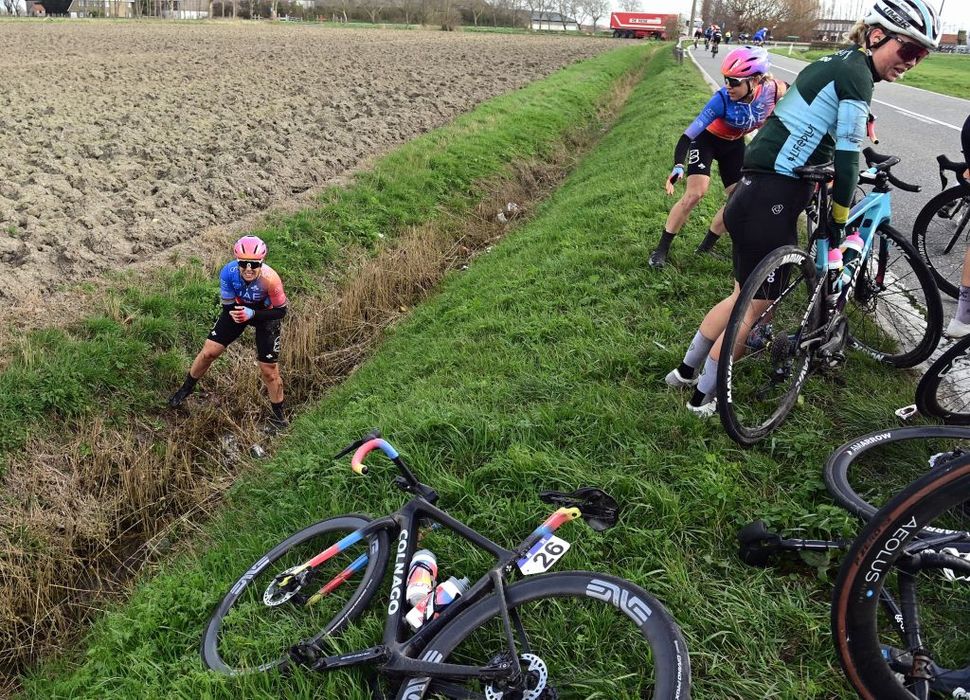 🚨 Race interrupted!After a big crash in the peloton the jury decided to stop the race for now with 117 km left to go.#BruggeDePanne pic.twitter.com/si2h5j3LgnMarch 23, 2023
See more