Nathan Van Hooydonck: Jumbo-Visma rider retires because of heart problem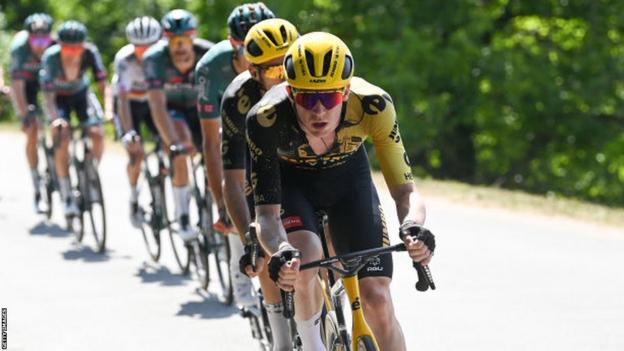 Belgian rider Nathan van Hooydonck has retired from cycling after having an internal defibrillator fitted because of a heart muscle anomaly.
The 27-year-old Jumbo-Visma rider was involved in a car accident last week when he fell ill at the wheel.
Subsequent tests led to the issue being found and Van Hooydonck was fitted with the ICD to correct any potential future problems with his heartbeat.
"I realise that I was incredibly lucky," said Van Hooydonck.
"Things may have gone differently if I hadn't got good help so quickly. I'm fine now, but I still have to deal with the fact that this marks the end of my professional career.
"I would like to express my gratitude to the people who helped me, the medical team at the hospital and all the fans who sent me messages."
Van Hooydonck's pregnant wife was in the vehicle during the accident but emerged without injury.
"I will now focus on my recovery and my upcoming fatherhood," said Van Hooydonck.
"Everything is going well with Alicia and the pregnancy, and we eagerly anticipate the birth. That really helps me now."
Van Hooydonck, who turned professional with BMC in 2017, has been with Dutch team Jumbo-Visma since 2021.
He was part of the team supporting Tour de France winner Jonas Vingegaard at this year's race and last week rode in the Tour of Britain.
Van Hooydonck was also poised to represent Belgium at the European Road Championships, which started on Wednesday.