Mark Cavendish: Britse wielrenner 'overweldigd' door steun na ernstige verwondingen bij crash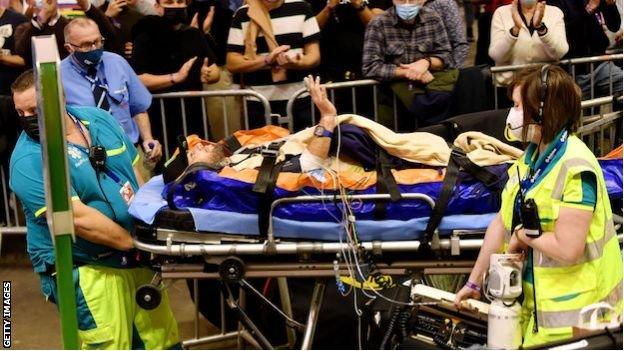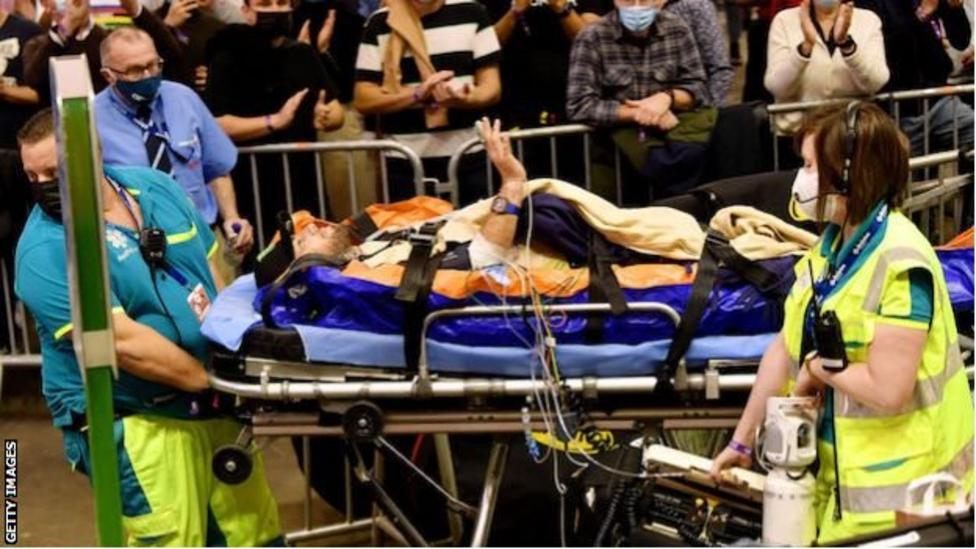 Mark Cavendish zei dat hij "overweldigd" was door steunbetuigingen nadat hij zondag twee gebroken ribben en een klaplong had opgelopen bij een crash tijdens de Zesdaagse van Gent.
De 36-jarige Britse wielrenner reed in de Madison toen olympisch en wereldkampioen Lasse Norman Hansen voor hem ten val kwam.
Vervolgens reed hij op de fiets van de Deen, waardoor hij op de grond viel.
Na de eerste behandeling werd Cavendish op een brancard naar het ziekenhuis gebracht.
In een verklaring zei Cavendish's team Deceuninck – Quick-Step: "Uit onderzoek is gebleken dat Mark twee gebroken ribben heeft opgelopen aan deze linkerkant en een kleine pneumothorax heeft. [collapsed lung], die beide met medicatie zijn behandeld. Hij is ter observatie in het ziekenhuis gehouden.
"De verwachting is dat Mark later vandaag of morgenochtend wordt ontslagen en daarna een periode van herstel zal ondergaan."
Cavendish ging maandag naar Twitter om fans te bedanken voor hun "steun" en "welkom wensen".
"Six Days of Ghent eindigde niet zoals we hadden gewild", zei hij.
"Ik word behandeld voor een paar gebroken ribben en een longontsteking. Ik heb wat pijn, maar een paar nachten met het ongelooflijke personeel hier in het Universitair Ziekenhuis Gent zou me moeten helpen."