Jumbo-Visma rider Nathan van Hooydonck awake after 'life-threatening' car accident
"], "filter": "nextExceptions": "img, blockquote, div", "nextContainsExceptions": "img, blockquote, a.btn, a.o-button" }">
Nathan van Hooydonck has woken from an induced coma after he was involved in a 'life-threatening" car accident.
Reports out of Gazet van Antwerpen stated Van Hooydonck was waiting at an intersection in the Belgian town of Kalmthout at around 8.30 on Tuesday morning. His pregnant wife was in the passenger seat next to him.
The Jumbo-Visma rider is said to have fallen ill and accidentally pushed his car's accelerator pedal, causing it to lurch into the intersection and provoke a crash that left five vehicles damaged.
"The driver was resuscitated on the spot and taken to hospital in life-threatening condition," local police officer Patrick De Smedt said shortly after the accident. "His pregnant wife who was sitting next to him was not injured, but was also taken to hospital."
Van Hooydonck, 27, is one of Jumbo-Visma's core classics riders and rouleur domestiques. The Belgian was part of Jumbo-Visma's two Tour de France victories and placed second this year at Kuurne-Brussel-Kuurne.
He was transported to a local hospital and put in an induced coma.
Jumbo-Visma rider Attila Valter revealed Tuesday after he completed stage 16 of the Vuelta a España that Van Hooydonck's condition is improving.
"We heard at the bottom of the climb that Nathan is awake and he's pretty ok," Valter said. "That's what I heard in the radio."
Three people in the other cars, including a young child, suffered minor injuries. The intersection is currently completely blocked and several cars have been towed.
Jumbo-Visma director at Vuelta a España: 'Our thoughts are somewhere else'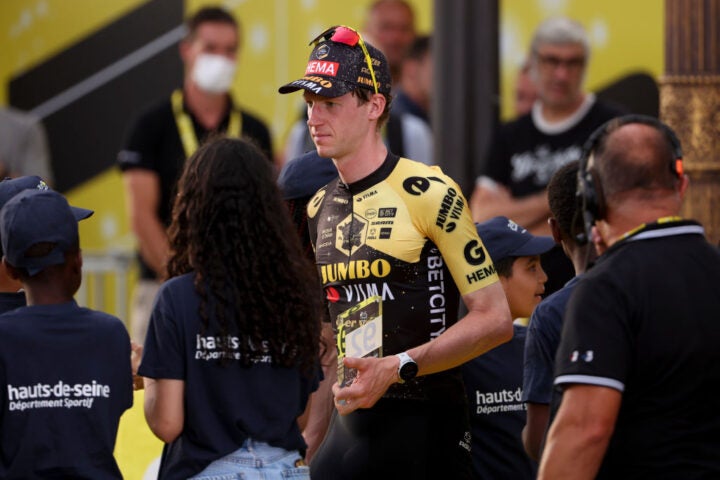 Jumbo-Visma is currently flooding the headlines at the Vuelta a España.
U.S. rider Sepp Kuss leads a Jumbo-Visma sweep of the podium at the Spanish tour, with Primož Roglič and Jonas Vingegaard on the steps of the podium after Tuesday's 16th stage.
Team director Grischa Niermann updated GCN from the Spanish tour Tuesday morning.
"We don't know more than what's in the media," Niermann told a huddle of reporters outside his team bus.
"Apparently he had an accident and had to go to hospital. He's there now, I think in an induced coma. It's very harsh news for us, for the riders. Our thoughts are with him and his girlfriend, we all hope and wish for the best."
Jumbo-Visma tilts into the third and final week of La Vuelta on the brink of a historic sweep of the season's grand tours.
Niermann told GCN his riders faced a difficult day on the bike Tuesday.
"Of course, our thoughts are somewhere else. But still, we have the leader's jersey in the Vuelta and we will go on fighting. I hope the boys can change their mindset as soon as they're on the bike," he said. "But this is a very difficult morning for us."
Vingegaard won Tuesday's summit finish on Bejes and paid tribute to Van Hooydonck in his victory interview.
"I'm just happy to win today," Vingegaard said at the finish line.
'We had some terrible news this morning and I wanted to win for my best friend today. Luckily we've had some good news about his condition and that's a big relief for me and the team. I hope he recovers soon."