British BMX champion Iris Hajda on jumps, racing friends & dreams of Olympic podium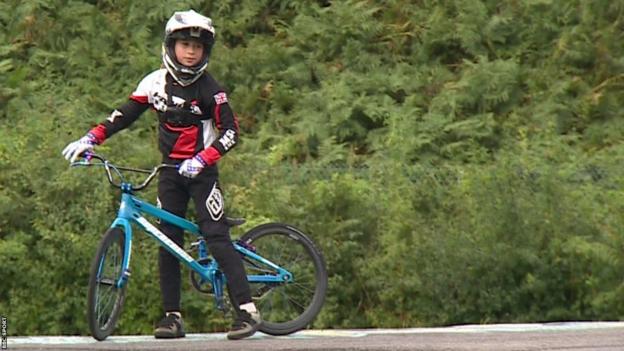 British BMX champion Iris Hajda may only be 10 years old but she is wise beyond her years and knows bike racing like a veteran of the sport.
"You can get pipped at the line if you don't go fast enough," she tells BBC South Today.
"The finish isn't after the last jump so you have to pedal quickly to get to the white line after that final one.
"At my age your finish times are between 37 and 50 seconds, depending on what track you're racing on."
Hajda, from Reading, has competed at the World Championships in Glasgow – four weeks after suffering a broken collarbone – and the European Championships in France.
The youngster recently raced to victory at the British BMX Championships in Derby in August, to be crowned British girls supercross champion.
"It was really good," she added. "I was competing against girls of a similar age and next year I will race the boys too.
"Next year I will be going to the World Championships in America.
"It's probably my favourite race because you can make lots of new friends and sometimes you swap jerseys with other racers too, it is a lot of fun."
Tokyo's golden moment for Great Britain
Great Britain have steadily been making a name for themselves in the BMX world and picked up four medals in the discipline at the 2020 Tokyo Olympics.
Bethany Shriever won supercross gold and Kye Whyte won silver in the men's event.
Charlotte Worthington claimed gold in the BMX Freestyle and Declan Brooks won bronze for the men.
Hajda is hoping to follow in their footsteps.
"I want to go to the Olympics," she said.
"It was inspiring to see GB win gold at the last games and I think it got more girls interested in the sport.
"There should be more girls getting involved because if you look at how many riders there are racing today, there are a lot of boys.
"One day I hope to be on the Olympic podium too."