5 E-Bikes for Hunting: Review
"],"filter":"nextExceptions":"img, blockquote, div","nextContainsExceptions":"img, blockquote, a.btn, a.o-button","renderIntial":true,"wordCount":350}">
A few years ago, a buddy convinced me to take our mountain bikes out for a morning of turkey hunting. As someone who loves both activities, using an e-bike for hunting seemed like a great idea—what would be better than doing two of my favorite sports at once?
We hunted by bike all morning, and never heard a single gobble. Between constantly fumbling with layers, dealing with heavy packs, and trying to manage a shotgun while riding singletrack, all we managed to do was make two activities I love abjectly worse.
I swore off using bikes for hunting until last fall, when some friends suggested we take their e-mountain bikes along on my wife's elk hunt. The area we were hunting was full of gravel roads closed to trucks and ATVs, but open to bikes, and some of the good spots required getting four or five miles beyond the gates before we were in elk territory. My wife shot a cow nearly three  miles from our truck at 7:15 am, and because of the e-bikes and trailer were completely packed out and at camp by 1 p.m.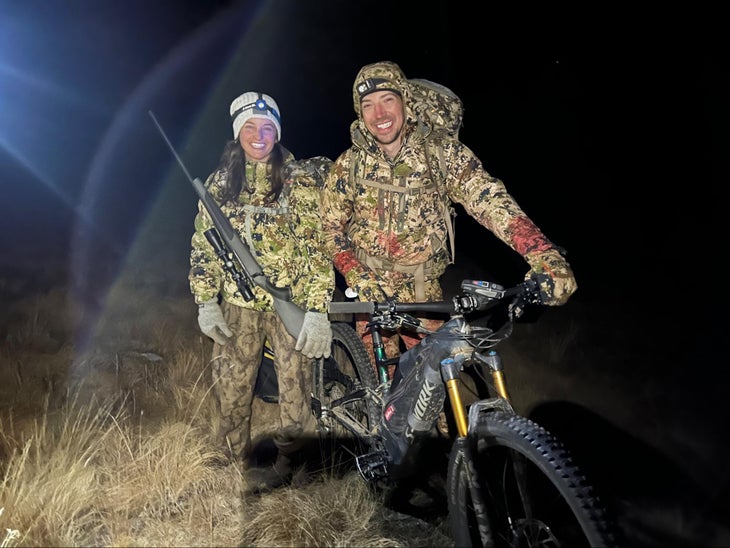 More impressively, our group still had enough energy to continue hunting that afternoon, and my wife's hunting buddy shot her own elk that evening at 6 p.m. It was in a different zone about two miles from the truck, and once again the e-bikes allowed us to cover more than six miles and be back at camp, eating dinner with elk number two completely packed out by 11 p.m.
That day, which ranks as one of the best hunting experiences of my life, would not have happened without those e-bikes. It really changed my mind about bike hunting, and e-bikes in general. As a mountain biker who's bikepacked the Colorado Trail and loves riding singletrack under my own power, I'd foolishly thought of them as a crutch, or "not for me," rather than the amazing tool that they are. I finally realized that when used appropriately, they allow you to go further and be fresher when you get to your destination. Naturally, I became obsessed with figuring out what type would work best for hunting.
The bikes we borrowed for my wife's hunt were top-of-the-line Specialized S-Works Turbo Levo e-mountain bikes, and while they worked great for us, they are designed more for technical trail riding than hunting. Several companies, like QuietKat, Backou, and Rambo, have popped up in the last few years and market e-mtbs specifically for hunting, which got me wondering—are hunting-specific e-mountain bikes actually better than standard e-mountain bikes? And if not, which type of e-mountain bike is your best bet if you want to hunt with it?
The Test
The goal of this test wasn't to pit several of the same type of bike against each other in order to crown a winner. I tested several very different bikes, each of which has its own intended use case and pros and cons. The goal was to find out what these bikes do best, and provide an in-depth look at the options available for e-bike hunting—including bikes that aren't specifically made for that purpose.
I tested these bikes during the spring turkey hunting season here in New Mexico, which allowed me to use them in actual hunting scenarios and provide good insight into how they'd perform for big-game hunting throughout the western states in the fall. I also wanted to get an idea of their overall utility and versatility, so I rode each on singletrack, pavement, and while hauling things around our farm after the season ended.
Turkey hunt testing looked like this: a buddy and I would drive to a hunting area, park the truck, and take off on the bikes. Often we'd ride for seven or eight miles, stopping every so often to call and listen for gobbles. If we heard something, we'd park, hike towards the gobble, and set up. We typically put in about 20 miles per morning.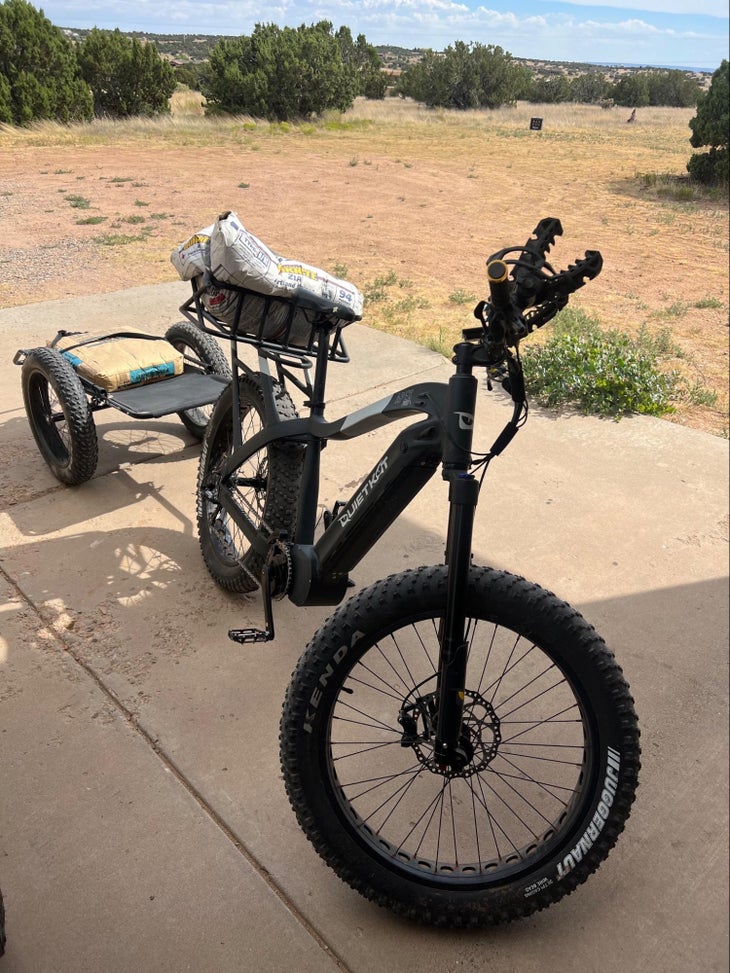 I also designed a test loop near our house that included true off-trail riding, rough double track, a gravel path, dirt roads, and single track. It mimicked the scenarios I encounteedr most often while hunting in New Mexico, and allowed me to ride the bikes back-to-back to get an even better sense of how they ride and handle a load.
To mimic packing out meat from a harvest, I loaded a 100 pound bag of Quickcrete onto the Quietkat All Terrain Game Trailer, and in some cases on the bike itself, and rode the test loop.
Other Considerations
One very important thing to keep in mind while you're looking at e-bikes is that they're not allowed everywhere. In general, you can ride them on roads or trails open to motorized vehicles, but the rules in certain jurisdictions can be murky. It's important to check with local land managers before you head out if there's any question in your mind. People for Bikes is the best resource I've found for learning more about electric bikes and where they can be used legally.
Weight and transportation are two other things to keep in mind when shopping for an e-bike. Most of them are significantly heavier than your standard mountain bike, and you're going to need a bike rack that'll support them. Check out 1Up's Super Double Duty or this one from Quietkat if that's something you need.
The Bikes
QuietKat Apex Pro (from $4,999)
Best for Rough Terrain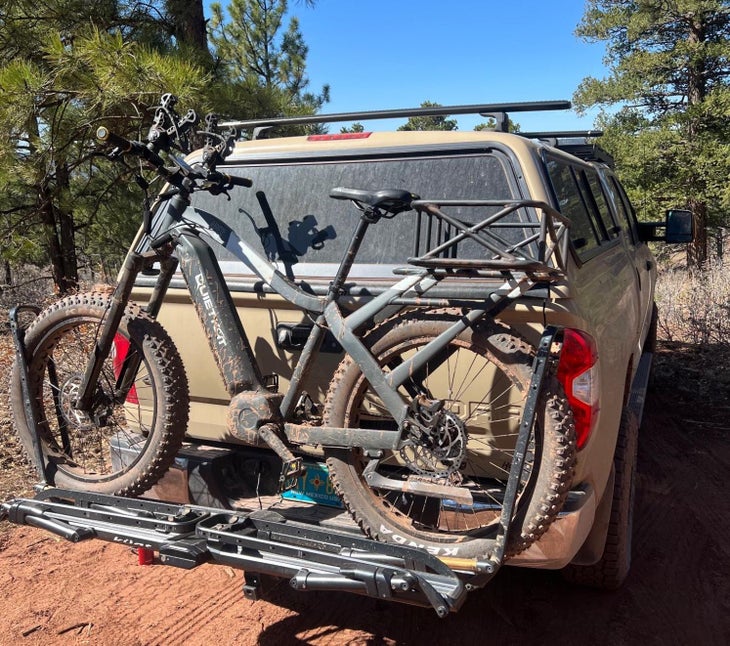 Quietkat makes a number of hunting-specific e-bikes and is a leader in the space. The brand's bikes are designed for high load capacities and traversing all sorts of terrain, not just singletrack trails. I tested their Apex Pro model, which comes with a 1,000 watt mid-drive motor and SRAM nine-speed drivetrain. It's specced with a 140 millimeter KKE inverted fork, 26 by 4.5 inch Kenda Juggernaut tires, and a built-in cargo rack with a 100 pound capacity (Total weight capacity for the bike is 325 pounds). I also tested QuietKat's Hunter Kit ($587) along with the bike, which comes with an All Terrain Game Trailer, Pannier Cargo Basket, Comfort Saddle, and Rhino Grip XLR gun rack.
This bike is a beast. Not only does it feel more like you're riding a dirtbike than a bicycle thanks to the monster tires and 1,000 watt motor, but my large frame weighed in at nearly 80 pounds. The motor has plenty of juice to get the whole package moving, though, so it's actually a pretty pleasant riding experience. The fork is supple, and the rest of the components do their job admirably. On the model I tested, you can select between Eco and Sport modes, which each have five speed settings within them. Although you don't have to use it thanks to pedal assist, I found the throttle to be very helpful to get moving once the trailer was loaded down —an 80 pound bike loaded down with 100 pounds of gear is a lot of weight.
My biggest concern with the Apex Pro was the range. Quietkat rates it at 25 to 52 miles depending on conditions, but we found that we consistently only got 20 in real-world use. I ran out of juice once towards the end of a hunt, and can confirm that you want to be careful with battery management—this is not a bike you want to pedal for very long without some assistance. That happened while using it under what I would consider normal riding conditions—mostly unloaded, mainly in eco-mode, and only using the throttle when I needed it.
It should be noted that the Apex Pro now comes with Quietkat's VPO, or Variable Power Output Technology. VPO lets you select between Class I, II, II, or Unlimited modes, and helps you be compliant with various e-bike restrictions. I wasn't able to test this to see how it compares to the older model, but am curious how it would impact range and power delivery.
The Apex Pro was the most capable bike in the test when it came to navigating challenging terrain or non-existent trails. It feels more like an ATV than a bike. Deep sand, loose dirt, rocks, and anything else we found during our hunts were no match for those wide tires and gobs of torque. Towing the loaded trailer on our test track was a breeze, and it had enough power to haul 100 pounds with a 120-pound rider up a steep, loose hill. The cargo basket allowed me to ride without a pack while hunting, which I much prefer, but don't expect to load it down with 100 pounds and ride normally—the bike just becomes too unwieldy with that much weight high up on the rear rack.
One of the biggest benefits to this rig are the accessories Quietkat sells to go with it. The All Terrain Game Trailer was incredibly easy to use, and rolled over anything thanks to the 20-by-4 inch tires. It folds flat or can be run in sort of a chair configuration depending on what you're hauling, and manages loads up to 100 pounds without issue. The Rhino Grip XLR was a great solution for carrying a shotgun or bow, although if you're riding tighter trails you'll want to carry your gun in a sling to avoid collisions with trees—ask me how I know.
RadPower RadRunner 3 ($2,299)
Best Value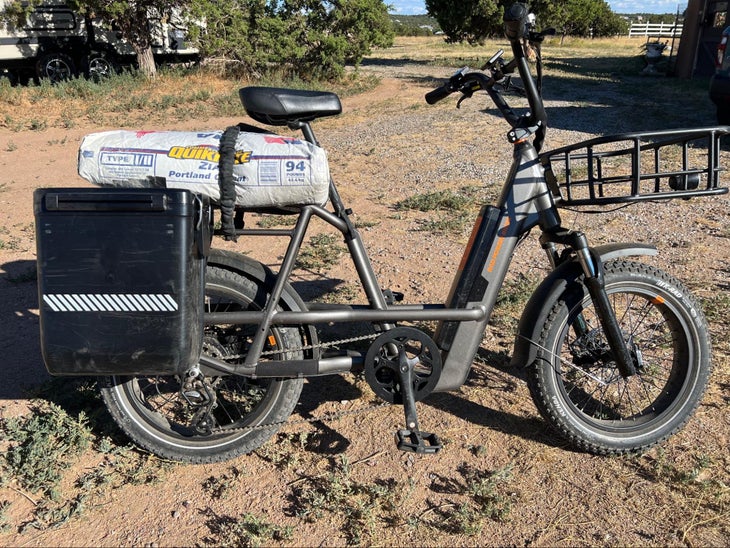 The RadPower RadRunner 3 was the most surprising bike in the test, and stole the heart of everyone who rode it. This bike is not designed for hunting—in fact it's not even designed for mountain biking—it's really a cargo bike. I'd intended to try a different RadPower model, but the representative I spoke with talked me into giving this one a shot, and I'm glad he did.
Versatility and value are the two biggest things the RadRunner 3 has going for it. It has a 750-watt geared hub motor, a very basic RST spring suspension fork with 60 millimeters of travel, a seven-speed Shimano drivetrain, built-in lights, 20 inch wheels with three inch wide puncture-resistant Kenda tires, and a massive cargo rack where you can bolt all sorts of accessories (like pannier bags, and even a seat for a second person). It supports up to 350 pounds, and the frame fits riders from under five feet to over six feet, two inches tall. I can confirm that: both my wife, who's a petite five foot, five inches tall, and myself, at six foot, three inches tall, were able to ride it without issue.
I was skeptical of the cargo bike looks and small wheels at first, but the thick tires proved to be far more capable than I expected. I rode the RadRunner on several turkey hunts alongside a friend on the Quietkat, and had absolutely zero issues keeping up with him on dirt roads we were exploring, so long as the tire pressures were properly set. Sure, there were a few technical, rocky sections of road where I slowed down a bit more than he did because of the smaller tires and cheaper suspension fork, but the bike did great and tackled terrain that it looks like it has no business being on. Range-wise, we found it to be on par with the Quietkat: 20 miles seemed to be the safe bet while romping around in the woods chasing birds.
The load hauling capabilities of the RadRunner 3 are superb. Besides its 350-pound capacity, it can haul a trailer as well. The RadTrailer that accompanied the bike wasn't as capable as Quietkat's, due to the smaller street tires (it's designed for around-town use), but it hauled 100 pounds with ease, and I wouldn't hesitate to use it on a hunt. I could tell this bike had a smaller, 750-watt motor while pulling the loaded trailer up a steep, loose hillside, but it managed it just fine, albeit slower than the bikes with larger motors. The RadRunner 3 really shined when it came to hauling weight on the bike itself; the low center of gravity and frame design meant I barely felt a difference in handling when I rode with the 100-pound bag of quikrete on the rear rack.
Finally, there's the price. At $2,299, it's an absolute bargain compared to its competitors, and most of the bikes on this list. If you can get over the European cargo bike looks, it is without question the best value and most versatile bike I tested. It'll handle city streets and mild trails with ease, can haul your kiddos to school, get groceries on the way home, and then pack you and your harvest around the woods without breaking a sweat.
Trek Powerfly FS9 Equipped Gen 3 ($6,499)
Best All-Arounder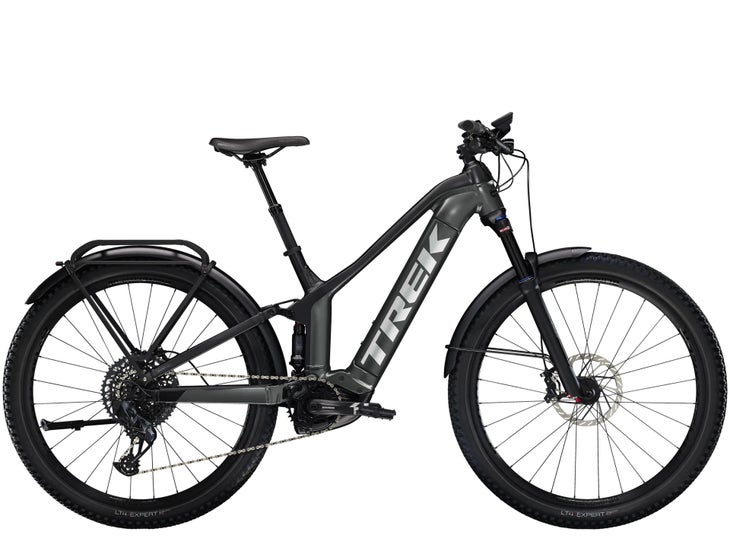 I was particularly excited about testing one of Trek's e-bikes because the brand is a well-known bicycle company that knows how to make a fantastic ride. Its Powerfly models are some of their best selling e-mountain bikes and offer a great value for the price. I hoped testing the Powerfly would answer the question of whether you're better off buying a regular e-mountain bike from an established brand and using it for hunting, or buying a bike specifically designed for hunting. It did, but the answer was more nuanced than I thought.
The Powerfly FS9 Equipped stands in the middle of Trek's e-mountain bike lineup, and uses a Bosch Performance Line CX motor system and 625 watt hour battery. It's a proven design, and it's well known that Bosch makes some of the best e-bike motors on the market. There are four modes of assist to choose from, and the system automatically adjusts power output based on how much power you're putting into the pedals. There was a noticeable difference riding this bike versus the Quietkat, Rad, and Rambo—with those bikes, the power delivery felt like it was either on or off, and can only be adjusted by selecting a different mode. With the Trek, if you pedal harder you'll get more assistance, no matter what drive mode you're in. It's a much more pleasant and natural bike-like riding experience, while the others feel a bit more jerky.
The other components on the Powerfly FS9 were great—a Suntour 120 millimeter fork, SRAM GX Eagle AXS electronic shifting, a dropper post, and, as this is a full-suspension bike, a Rockshox SID shock with 100 millimeters  of travel. The FS-9 Equipped model we tested also comes with front and rear lights, a kickstand, fenders and rear rack. A size medium weighs in at 59 pounds.
While the Powerfly FS9 isn't Trek's most trail-oriented e-mountain bike (look at a Fuel EX-e or Rail for that), it's a ton of fun on the trails and definitely feels more like a standard mountain bike on singletrack than the first two bikes on this list. Part of that is because there's no throttle—you've got to pedal for it to give you any assistance—but it's also  just a solid bike with excellent components. I think folks with a mountain biking background will feel most at home with this type of e-bike, while anyone with a moto background or those new to cycling may prefer the stability of one of the first two on this list.
The optional rear fender rack allows you to hook up panniers and provides some nice options for storage, but it doesn't have the load capacity of the RadRunner (total weight capacity for the bike is a healthy 300 pounds, though). I hooked up the trailer to the FS9 to see how it'd handle hauling a load and found it pulled wonderfully, even in the lower power modes.
The Trek also had the best range in the test. We never ran out of juice, and others reported regularly riding 40 to 50 miles on a charge. That's a huge factor in using an e-bike for hunting, as you don't want to have to pedal these without e-assist if you can help it. That said, the Powerfly FS9, along with the Canyon Spectral below, were definitely the easiest to pedal and the most normal feeling without any assistance.
Simply put: the Powerfly FS9 is a fantastic full suspension e-mountain bike that rides just as well on beginner to intermediate singletrack as it does on paved bike trails around the city. If you're looking for a great all-around e-mountain bike that you can use on trails, in town, and for hunting, this one's really tough to beat. You can even get into a Powerfly for less money if you don't need full suspension or as large of a battery.
Canyon Spectral:On CF7 ($4,799)
Best for Serious Mountain Bikers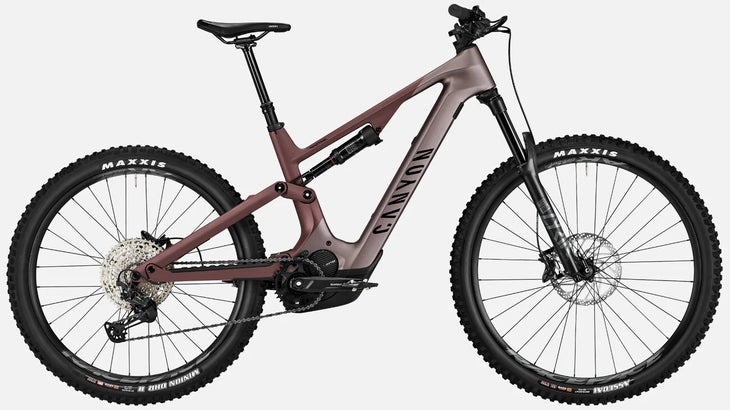 In the spirit of testing as many types of e-mountain bikes as possible, I wanted to throw a leg over something designed for technical singletrack, rather than utility. Enter the Canyon Spectral:On CF7, which is the direct-to-consumer brand's 150 millimeter travel e-mountain bike. With a carbon frame, 27.5 inch wheels wrapped in Maxxis Minion DHR II and Assegai tires, a Rock Shox Lyrik Select up front, and a slack, 66.5 degree head tube angle, the Spectral was easily the most trail-oriented bike in this test and the most fun to ride on trail.
Like the Trek, the Canyon is a Class I bike, meaning there's no throttle and speeds are limited to 20 miles-per-hour. The Spectral's assist comes courtesy of a Shimano Steps EP8 motor and 720 watt-hour battery, which I found to be very smooth and actually preferred to the Bosch system, but just by a little bit. Size medium through extra-large frames can also support an upgraded, 920 watt-hour battery for even more range. Similar to the Trek, power from the motor was delivered smoothly and provided an incredibly nice riding experience.
The Canyon handled the test loop with flying colors, but I definitely felt overgunned riding this trail machine down tame doubletrack and on gravel roads. It's not the e-bike I reached for when running errands, either. As with the Powerfly FS9, I never ran out of juice while using this bike, and found it to consistently have the best range out of the bunch.
The Spectral's carbon frame made it the lightest bike I tested, at just over 50 pounds, which felt significant in terms of maneuverability and helps with both battery range and the ability to pedal it once that battery dies. Even then, it still towed the loaded trailer around the test course without issue.
That being said, I did worry about weighing down the lightweight carbon frame compared to the alloy bikes in the test. In my experience using a bike as a tool for hunting typically means being less precious with it than you'd be with your normal mountain bike. You'll likely be hanging it off the back of your rig while driving down rough roads, stashing it in the woods, riding in variable conditions, lashing a bunch of stuff to it, and pulling an overstuffed trailer. If you would feel precious abusing a bike of this caliber, that's something to consider.
But if you're a mountain biker who's most interested in a bike for trail riding first, and hunting second, something like the Spectral:ON is a good choice.
Rambo Ryder ($3,499)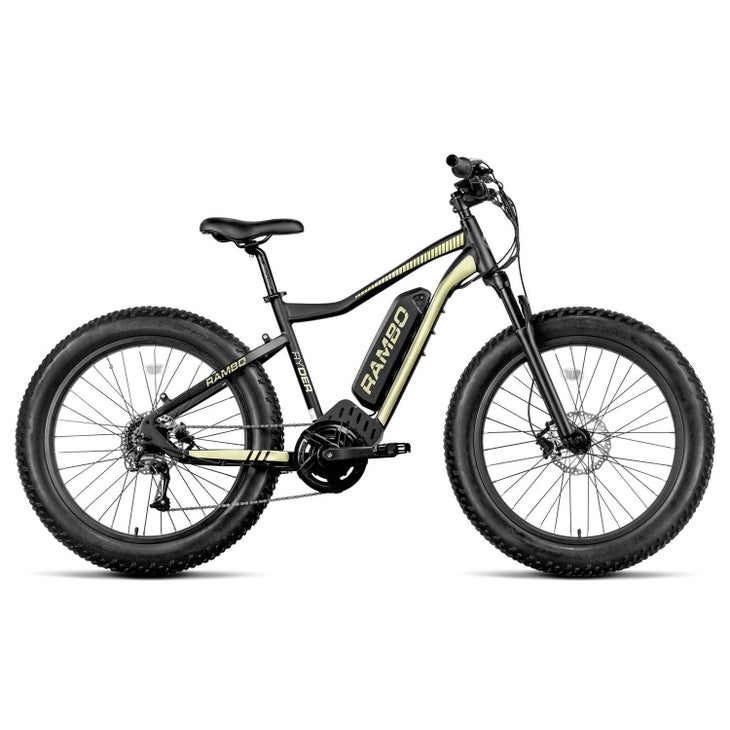 The Rambo Ryder was the only other hunting-specific bike I tested. I was hoping to review one of the company's higher performance bikes like the Megatron, but they were out of that frame. The Ryder is a Class II bike, like the Quietkat and Rad Power, and gets its power from a 750 watt, mid-drive motor.
It came with a basic, eight-speed Shimano drivetrain, which proved to be more finicky than the shifting on the other bikes. The fit and finish, as well as the components like the GT MRK fork and Logan brakes, just weren't as nice as anything on the other bikes I tested, despite the similar price point.
It's obviously not fair to compare the components of a $3,499 bike with that of a $6,499 bike like the Trek, but overall this bike just wasn't nearly as dialed or fun to ride as the any of the others I tested, including the RadRunner 3, which was far less expensive. The frame and components felt cheap, and at 63 pounds, it was one of the heavier bikes in the test despite the smaller, medium size frame. It wasn't nearly as smooth on rough terrain as the other hardtails (including the RadPower), and it consistently had the lowest range of all the bikes, at less than 20 miles. I'd look elsewhere for an e-bike for hunting.
Conclusion
After testing these bikes over several months, my biggest takeaway is that each one can be an excellent tool for hunting, and will absolutely get the job done (except for the Rambo Ryder). Choosing the right one really comes down to where you'll be hunting and your riding style, but overall I feel that a bike with a high load capacity and emphasis on cargo hauling versus a more trail-oriented e-mountain bike is the best choice.
From a value perspective, you simply can't beat the RadPower RadRunner 3. It'll get you down a Forest Service road just fine, and can handle a load strapped onto the frame itself better than any of the other bikes. You could easily put a bone-in elk hind quarter on the rear rack, and pull an additional shoulder and quarter on a trailer without issue. I also love that this bike is great for around-town errands and commuting when you're not in the woods.
If you plan to use an e-bike solely for hunting, you're new to cycling and want the most stable platform you can get, or want the ability to ride absolutely anywhere (like around your farm or hunting lease), go for the QuietKat Apex Pro. It feels more like a dirt bike than a bicycle, has no problem hauling, and you can buy amazing accessories like racks and trailers built specifically for hunters.
If you're a mountain biker first and have been looking for an e-mountain bike for trail riding, plus a little hunting, the Spectral:ON is killer. It was the most capable trail bike of the bunch, and can definitely work for hunting (especially with the amazing range).
That leaves us with the Trek Powerfly FS9. I found it to have the ideal blend of trail-worthiness, range, and cargo-hauling capacity (yes, it is the most expensive bike in the test, but I think the less expensive models in the the line like the Powerfly FS4 or the Powerfly 4 hardtail, would be great options too). You can build this bike up with street tires and a rear rack for commuting to work, or slap some meatier tires on it and keep up with your buddies on trail rides. Like the RadRunner 3, it comes with front and rear lights, which are really helpful when you get back to your bike after dark and still need to ride back to camp. More than anything, it becomes apparent immediately while riding this bike that Trek is a bicycle company first, and they know how to make an e-mountain bike that feels like a regular bicycle, with just the right amount of boost.